With whip in hand, this Ann Takamaki cosplay shows the fiery side of this Persona 5 character.
An unyielding sense of justice allows this sweet and compassionate student to become a powerful asset in the fight against evil. As a result of learning about unspeakable horrors endured by her best friend at the hands of a school official, Ann awakens to the power of her own Persona – the femme fatale Carmen.
Dressed for battle as codename Panther, this Ann Takamaki cosplay inspires with fantastic details.
Name: Reagan Kathryn (@reagankathryn)
Photos by: @happytriggerla
Costume: Ann
EpicCosplay Wig: Daphne in Blonde Mix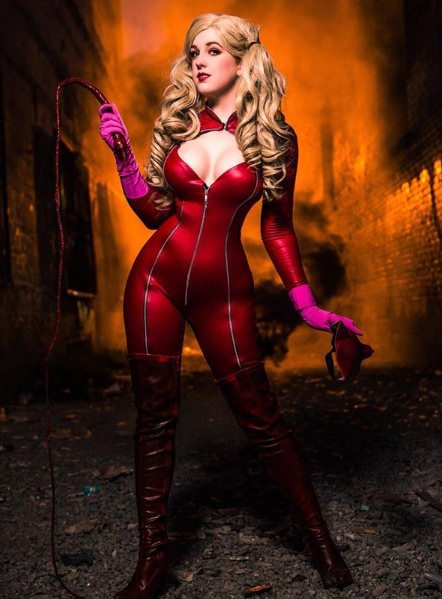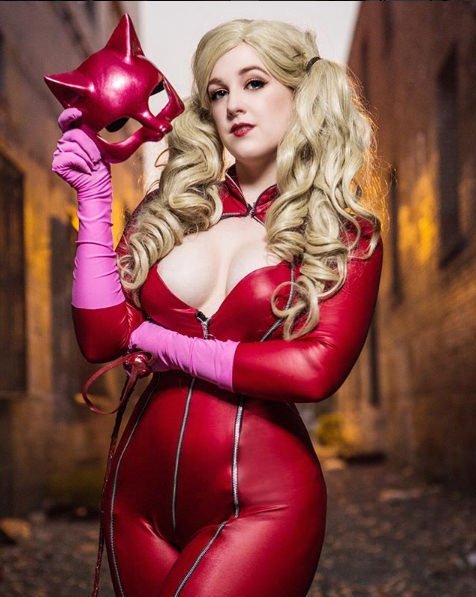 About the Panther Costume
When detected, Palace intruders appear in battle-ready outfits rather than casual wear. This Ann Takamaki cosplay features the catlike bodysuit she wears to fight evil in the Metaverse.
Ann's outfit features rows of zippers that run up the sides, recreated here with impressive skill. Thigh-high boots, bright gloves, and a feline mask complete the look.
Styling the Ann Takamaki Cosplay Wig
In the game, Ann wears her curly blonde hair in high bouncy pigtails. The versatile Daphne wig from Epic Cosplay serves as a fantastic match. This pre-curled wig measures at 23" and reaches 30" in the rear for a nice multilayered appearance.
This wig withstands heat up to 410 degrees for even more styling flexibility. The skin top measures 6" wide, allowing for realistic parts anywhere across the forehead. This made it easier to give Ann her trademark side part.
Ann's subdued blonde locks are a great match for the Blonde Mix color option. Other blondes are available for those who want to get a different look.
Tell Us What You Think!
Which outfit would you choose for your own Ann Takamaki cosplay? Her stylishly-accessorized school uniform? One of her cool casual summer styles? Her ferocious Panther bodysuit? Let us know in the comment section!