Han Pan Cosplay entered her 1950's Style Harley Quinn into our April Fools Contest! She paired up with Iggy Cosplay who is cosplaying as Green Lantern. While neither of these cosplayers chose to use our wigs we have some great styles that would work wonderfully if used when cosplaying as either of these characters. For a style similar to what Han Pan Cosplay is wearing for her Harley Quinn we recommend our Rhea Set in Butterscotch Blonde. For a Green Lantern cosplay we recommend our Hermes Wig in Light Brown. Check out their entry below!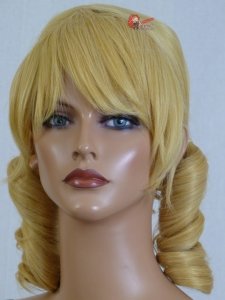 Name of both cosplayers:
Harley is done by Han Pan, and Green Lantern is Iggy Cosplay!
Series that you are cosplaying from:
I am from Batman, Iggy is from The Green Lantern series.
Did you use an EpicCosplay wig?
I did not. Iggy used his own hair.
What inspired you to do these cosplays?
Iggy has always admired the Green Lantern as a superhero. I love Harley's craziness and fun-loving personality!
What got you into cosplay?
My friend invited me to comic con….and I knew I had to be Harley!! I had a great experience and it all spun out from there.
Why do you love cosplay?
I love the friendships and relationships I have made through the hobby, as well as the development of my secondary hobby of garment sewing! I never would have met half of my very closest friends if not for this wonderful thing called cosplay. 😀
Describe what prank you are completing or what is going on in the photograph. (In other words, what makes your submission qualified for this contest).
In this photo, Iggy punked me! He totally photo bombed me in the shot, because we love to do that to each other. XD My friend Felix was taking the shot, so after giving him a nice smile, I bombed the next picture by licking my rubber chicken!
If your photo does not demonstrate a prank, what prank(s) have you done in this costume?
I also spent the day skipping around and beating my friend who was dressed as Medieval Batman with the chicken as a surprise. I always photobomb, poke, surprise, and tickle folks when I'm dressed as Harley Quinn!