Cece and Eli entered our April Fool's Contest as Soul Eater and Maka Alburn from Soul Eater! While neither cosplayer used our wigs we have some great style suggestions for you in case you are looking to cosplay as either of these characters in the future! For a Soul Eater cosplay we recommend our Chronos Wig in Silver Grey. For a Maka Alburn cosplay we recommend checking out and styling our Nyx Wig in Ash Blonde. Check out this duo's entry below!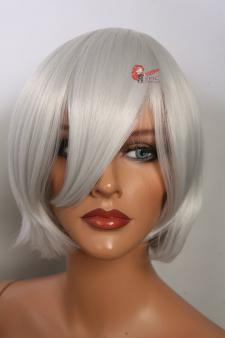 Name of both cosplayers: Cece and Eli
Series that you are cosplaying from: Soul Eater Characters you are cosplaying as: Soul Eater and Maka Alburn
Did you use an EpicCosplay wig? If so, what style? no, not for this cosplay
What inspired you to do these cosplays? I really love the show and we both really like how the characters act toward each other. The show is serious, but also as a very humorous side.
What got you into cosplay? We both went to a con and we're really impressed by other people's costumes.
Why do you love cosplay? Cause of the people you meet and the fun of being your favorite character from a show
Describe what prank you are completing or what is going on in the photograph.  MAKA CHOP 😀