Kassy and Danny entered our April Fool's Contest as Prussia and Germany from Axis Powers Hetalia! While neither of these cosplayers used our wigs we have some great styles that you can use to cosplay as either of these characters. For a Prussia cosplay we recommend our Chronos Wig in Silvery Grey. For a Germany cosplay we recommend styling our Hermes Wig in Caramel Blonde. Check out this duo's entry below!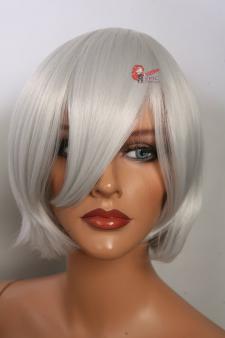 Name of both cosplayers: Kassy and Danny
Series that you are cosplaying from: Hetalia: Axis Powers
Characters you are cosplaying as: Prussia and Germany
Did you use an EpicCosplay wig? If so, what style? No
What inspired you to do these cosplays? I act a lot like Prussia, and Danny is a lot like Germany.
What got you into cosplay? We use to only have one other friend for 3 years because we were online schooling in high school. We loved watching anime, well one day we talked about how cool people who did it was, and we notice there was gonna be a convention in 6 months in our state. We decided to put together a cosplay and attend it to see how it is. Fell in love with it and the other cosplayers.
Why do you love cosplay? For many reasons, I get to put my creativity to a good use, I can make peoples dream of seeing this character in real life come to true, I can be myself with out being afraid of being judged, I get to dress up, and cause I feel awesome, even if I'm just wearing the hat or necklace of my cosplays.
Describe what prank you are completing or what is going on in the photograph. (In other words, what makes your submission qualified for this contest). Prussia likes to pick on Germany and usually photo-bombs his pictures. So instead Germany decided he'd photo-bomb Prussia even with his own Gilbird!