Leo's Mother and Sapphire Sky's cousin entered this duo into our April Fool's Contest as Spike and Fluttershy from My Little Pony: Friendship is Magic! Sapphire Sky used our Hera Wig in Cotton Candy Pink (color discontinued) for her Fluttershy cosplay! While Leo did not use a wig for his Spike cosplay we recommend taking a look at our Apollo Wig in Clover Green. Check out this duo's entry into our contest below!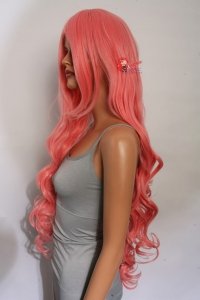 Name of both cosplayers: Leo( my son) and Sapphire Sky( My cousin)
Series that you are cosplaying from: My Little Pony
Characters you are cosplaying as: Spike and Fluttershy
Did you use an EpicCosplay wig? If so, what style? Fluttershy used your Hera in cotton candy pink (replaced by Princess Pink color)
What inspired you to do these cosplays? The Spike cosplayer is actually my son and he really loves my little pony so I took him to his first convention ever this year with my cousin. It was a My Little Pony convention so since he wanted to cosplay, we did it with him.
What got you into cosplay? My cousin did actually. When I saw her cosplaying back in 2003ish, I knew this was something that I had to get in on and everything has gone off from there.
Why do you love cosplay? I love cosplay since it allows us the freedom to express our love for all these different characters and share that love with  everyone.
Describe what prank you are completing or what is going on in the photograph. (In other words, what makes your submission qualified for this contest).
If your photo does not demonstrate a prank, what prank(s) have you done in this costume? Well I was taking this photo of my cousin, the Fluttersky, and just like the trickster he is on the show, my Spike jumped in front of the photo.
I am not sure if this will be accepted but I do have permission from my son and my cousin.