We are glad to feature another entry into our April Fool's Contest! Sarah entered this contest as Pinkie Pie from My Little Pony: Friendship is Magic! While she did not use one of our wigs we have a Pinkie Pie character specific wig (discontinued) that is perfect to use in cosplaying this character! Check out her story below!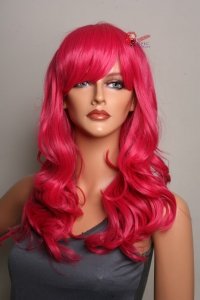 Name of both cosplayers: Sarah Maynard
Series that you are cosplaying from: My Little Pony: Friendship is Magic
Characters you are cosplaying as: Pinkie Pie
Did you use an EpicCosplay wig? If so, what style? No.
What inspired you to do these cosplays? I had been a fan of MLP for years, but hadn't quite gotten into Friendship is Magic. A friend showed me the episode with Zecora and I was hooked!
What got you into cosplay? I saw pictures online of cons and cosplayers, and knew I had to do it!
Why do you love cosplay? Hanging out with friends and dressing up!
Describe what prank you are completing or what is going on in the photograph. (In other words, what makes your submission qualified for this contest). Pinkie Pie and Rainbow Dash had this epic prank war going on, and Pinkie Pie has these "creeper glasses" (as I call them) that she wears for one of her pranking attempts.
If your photo does not demonstrate a prank, what prank(s) have you done in this costume? Whenever I wear Pinkie Pie, I try to photobomb as many people as possible, especially wearing the glasses. There's a lovely photo of a friend as Rarity holding hands with a Spike cosplayer where I'm featured in the middle in the background!