Syao-kun entered our April Fool's Contest as Kero (human version)! While she did not use one of our wigs we recommend our Apollo Wig in Autumn Gold for a similar  look. Check out her entry below!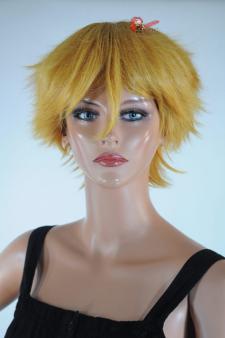 Name of cosplayer: Syao-kun
Series that you are cosplaying from: Cardcaptor Sakura
Characters you are cosplaying as: Kero (human)
Did you use an EpicCosplay wig? No
What inspired you to do these cosplays? My partner is a big CCS fan and talked me into it. 🙂
What got you into cosplay? When I met Twilight Memoirs, my cosplay partner, I had no idea what cosplay was but I've been hooked ever since!  I'm no good at sewing so I let her dress me up lol.
Why do you love cosplay?  It's a lot of fun and I think more people should give it a shot!
Describe what prank you are completing or what is going on in the photograph. (In other words, what makes your submission qualified for this contest):  Kero is always hungry.  Let's face it, he's a glutton.  So to get in character I decided to stuff my face with Pringles!  The photo was unexpected lol.  Nomnomnom!