Facebook:
Facebook.com/eli.ebberts
EpicCosplay Wig: Hestia in Copper Red for Revue Starlight Karen Aijou cosplay
Check out this amazingly detailed Karen Aijou cosplay by Eli Ebberts! Revue Starlight fans will recognize this character as the main protagonist of the series, an energetic student at Seisho Music Academy who made a promise to her childhood friend Hikari Kagura to perform in the school's annual theatrical play. Below, Eli Ebberts offers a little background on this cosplay. Then, keep reading after the photoset to learn about the wig – the Hestia wig from EpicCosplay.
This wig started as Hestia in Copper Red! I copped off most of the length and added the small pig tails using the criss cross method in the back to keep the wefts from showing! Once I liked the base style I trimmed up the bangs and removed tons of thickness from the pig tails. This wig is so cute and super fun to wear!
The costume was created over the span of a month in preparation for CharaExpo 2018 where Karen's voice actress will be hosting an autograph session! The materials used include faux dupioni, bridal satin, velvet, metallic spandex and twill suiting.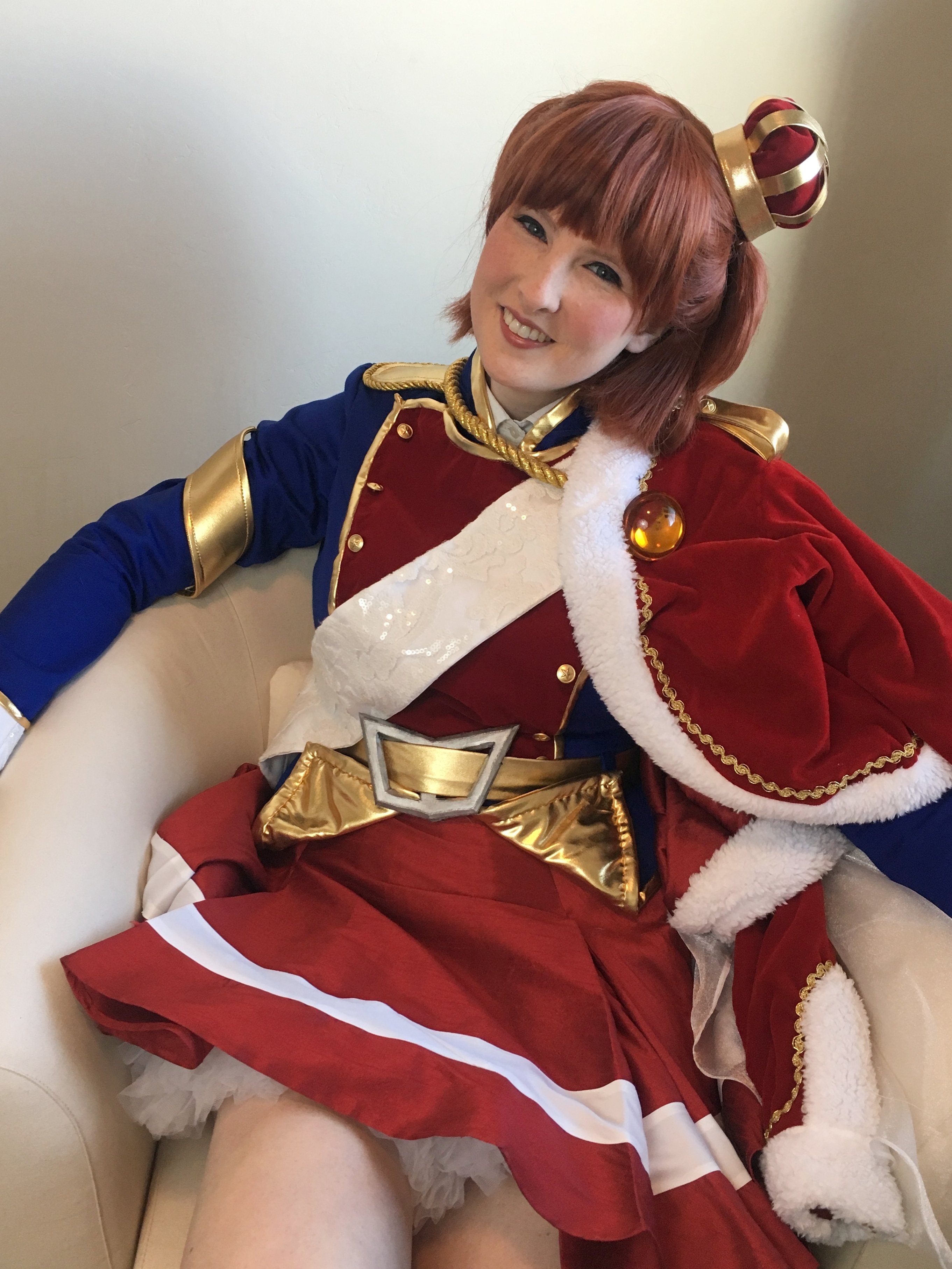 Behind the Style: Karen Aijou Cosplay Wig
Featured cosplayer Eli Ebberts used the Hestia wig from EpicCosplay as a base for this style. As you previously read above, getting such an accurate match for the character did require a skilled hand. Thankfully, the Hestia wig is perfect for complicated designs just like this one. Hestia is a medium-length curly wig that measures at 22". It's very heat-resistant for use with styling tools like flatirons.
The ability to create good-looking pigtails and ponytails is such a useful skill, helpful even with thick wigs like this one. Eli Ebberts used the crisscross method to prevent the underlying parts of the wig from showing through. If you're not getting the results you want with this method, EpicCosplay also offers a wig designed specifically with pigtails in mind. See if the Gaia wig is available in the color you need!