Cosplayer:
FabriKat Cosplay
Instagram:
@fabrikat_cosplay
EpicCosplay Wig: Hestia in Light Blue Mix for Fairy Tail Juvia Lockser Cosplay
FabriKat Cosplay showcases an incredible Juvia Lockser cosplay in this fantastic photoset. Fairy Tail fans will recognize this character as the water-commanding mage of the Fairy Tail guild from the series of the same name. This cosplay reflects the outfit the character wore throughout the Dragon Cry movie released in 2017. FabriKat Cosplay explains a little bit about this cosplay below. Then, keep reading after the photos to learn more about the base wig, the Hestia wig from EpicCosplay.
This cosplay is based on Juvia Lockser's look in the Fairy Tail Dragon Cry movie. Juvia's character has a strong heart and serves as a huge inspiration for me in life. For the wig I used a Hestia in Light Blue mix from Epic Cosplay and the cosplay is made from modified closet pieces. The hat is made completely from scratch since I was unable to find one anywhere that satisfied me! I debuted this cosplay at Matsuricon 2018 and photos were taken by the wonderful Kara Mel Photography!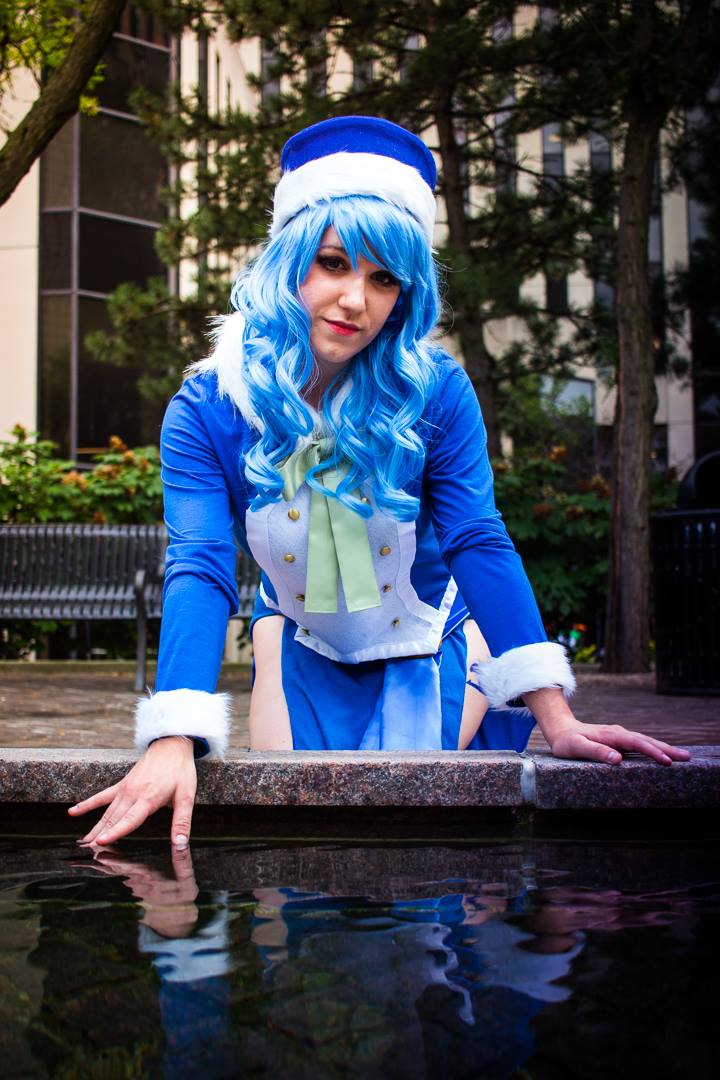 Behind the Style: Juvia Lockser Cosplay Wig
Featured cosplayer FabriKat Cosplay used the Hestia wig as a base for this style. Hestia is a super-versatile choice! It measures at 22 inches in length with bangs pre-cut to 4 inches. This length is perfect for a wide variety of characters with very little modification, making it especially popular with cosplayers at every skill level.
The voluminous curls look fantastic straight from the package. Of course, EpicCosplay wigs are also very heat-resistant to accommodate more complicated styling requirements. EpicCosplay wigs easily withstand heat in the 350-degree Fahrenheit range. Adventurous stylists can go all the way to 410 degrees, although such extreme temperatures risk changing the texture of the fibers.
In the anime and related movie, Juvia has rich blue hair. This cosplay uses the Hestia wig in Light Blue Mix. Of course, Hestia is available in a wide range of other blue tones to suit other outfits as well. If you are planning a Juvia Lockser cosplay of your own, explore the product page to see which shades are also available.