Ashley sent us another submission for our Halloween Contest! This time she's cosplaying as Holo from Spice and Wolf! She utilized our
Persephone
 wig in Light Brown
 to complete her cosplay. Check out her submission below!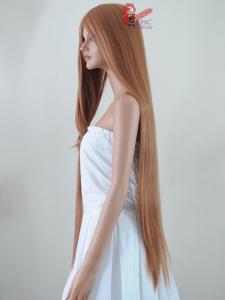 THE BIG BAD WOLF! <3
Name: Ashley
Cosplay Handle: Orah's Cosplay
Location: United States
Costume Name: Holo
Series Name: Spice and Wolf
How it was made!
The top was made from stretch polyester and hand dyed bias tape. The necklace was made from scraps of fabric lying around. The pants where bought and modifed to be capris, the shoes where bought at a local salvation army store. The wig was cut and styled to her! This photo reminds me of Little Red Ridding Hood and the big bad wolf with Lawerance being little red XDDD.
I have permisson from the photographer and my Lawerance.