Denise entered our Halloween Contest with her Mistress 9 cosplay from Sailor Moon! She utilized our
Asteria wig in black
to finish off this amazing cosplay! Look on below to check out pictures and her story!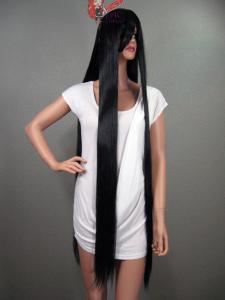 Name:  Denise
Nickname: Alora Phacia
Location: United States
Cosplay or Costume Name: Mistress 9
Series Name: Sailor Moon
Description of why you chose to cosplay that character, and how you went about buying or creating the costume
The character was actually chosen for me! My best friend LOVES Wicked Lady and since we are best friends she wanted me to be Mistress 9. Wicked lady's best friend!
I made Mistress 9's outfit with 4 different patterns combined. The top is made up of faux pearls and the fabric is a crepe.  The skirt is a silky solid.