Elizabeth (DizzyLizzy Cosplay) sent us her entry as Medicine Seller for our Halloween Contest! She utilized our Hestia wig in Natural Blonde and Ash Blonde Mix. Check out her story and pictures below!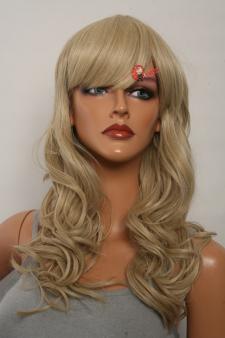 Name: Elizabeth Schram
Cosplay Handle (if applicable): DizzyLizzy
Location: United States
Cosplay or Costume Name: Medicine Seller
Series Name: Mononoke
Name or link to wig (if the wig is an EpicCosplay wig),
Description of why you chose to cosplay that character: I absolutely love the stories and art of Mononoke.
How you went about buying or creating the costume: There are 2 kimonos. The main and then the green one underneath. I don't know the technical names of the garments. The green is made of linen, while the main is a cotton/poly blend. The designs are cotton appliqued on. The white trim around all the applique is hand sewn. There is a purple lining inside.  For the obi, the designs changes almost every episode. I went with an abstract motif and combined all the images I saw. These as well as the obi itself are casa satin from Jo-ann's. The gold is appliqued. The obi has heavy duty interfacing to keep it's shape and is closed together in the back by velcro. The wig is from Epic Cosplay.  I pulled it up and added extensions. The "bead" is model magic. As for the jewelry. the red beaded necklace is made from glass beads and gold "tiger wire." The main necklace with the large pendant is made from a styrofoam ball, cut in half, with model magic covering it. The designs were sculpted into place. There is a mirror on the back of the pendant. The sword is made form a Cheerios box and Model Magic for the demon head.  The shoes were make by my friend Paul.