Emma entered our Halloween Contest with her amazing Wicked Lady cosplay! She gained 111 likes in our album at the time of vote counting, which meant she received the most likes from our Facebook page and gave her the win! She utilized our Straight Ponytail Wig set in Princess Dark Pink to achieve the look of this Epic Cosplay! Keep on scrolling down to see pictures and read her story!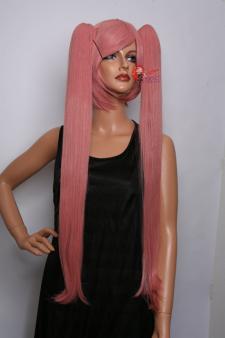 Name:  Emma Sistek
Nickname: Sunny Sprocket
Location: United States
Cosplay or Costume Name: Wicked Lady
Series Name: Sailor Moon
Style Name or link to wig: https://www.epiccosplay.com/light-brown-40-straight-ponytail-and-wig-set-clone.html
Description of why you chose to cosplay that character, and how you went about buying or creating the costume:
In the Sailor moon series, I didn't really like mini moon. I always thought of her as a spoiled brat. But when they turned her into wicked lady I felt her character to have more depth and emotion. She wasn't a bratty little girl, she was just lost and trying to get back home.
I combined over 5 dress patterns to create wicked lady's dress. The dress is made out of an iridescent taffeta and the under skirt is a charmeuse. The collar is a black pleather and covered in rhinestones.