Check out Sarah Futrell's epic entry into our Halloween Contest! She created her original design Fan Dancer! Suicuine Gijinka and utilized our
Persephone wig in Classic Purple
to complete her look! Read on below to see stories about how she made her costume!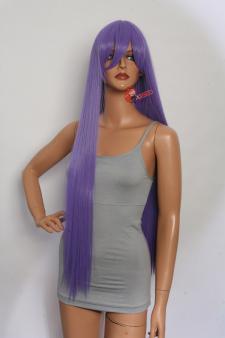 Hello! Thank you so much for running this contest! It's a really great thing for everyone in the cosplay community.
Here's the entry I'd like to submit.Name – Sarah Futrell
Cosplay Handle – Chibichan
Location – United States
Cosplay Name – Fan Dancer!Suicune Gijinka
Series Name – Pokemon
Style Name – 36″ Classic Purple Straight long Cosplay Wig
Why did I choose this character? – I got my very first Pokemon game from my daddy when I was about 8-9 years old. The game I got was Pokemon Crystal (with the coverpokemon being Suicune) and every since then I've been a HUGE Pokemon fan. This year I was trying to decide what to cosplay for a big Halloween event I always enter and at first I had one idea, but then I decided to scrap it; which led me to jump at the chance to cosplay as one of my all time favorite pokemon which is also the very one that got me into the series to begin with. Pokemon has been a huge part of my life that I cherish deeply, so, I thought what better idea then to finally cosplay as the very Pokemon that got me into it to begin with?
How did I make it? – This cosplay is probably the biggest I've done to date. While it may not look too huge, it actually has a walloping 17 YARDS of fabric. It's actually made of several pieces that layer together. The first is a white casa collection satin and chiffon empire-waist underdress (which can also do double duty as my Princess Serenitygown!) made of two floor length circle skirts and self-patterned bodice. After that is a faux bodice made of teal satin that covers the Serenity detailing; next is a aqua-blue overdress made of chiffon with white satin edging and hand-sewn diamonds on the sleeves. I actually used a modified medieval/elf dress pattern from Simplicity to do the overdress. I made a satin sash with 75″ long chiffon ribbons to tie the sash closed as well as to mimic Suicune's ribbon-like tails. Since I don't have a rolled-hem foot for my sewing machine I ended up hand-rolling about 700″ worth of hems and edges.
The crest was made of thicker posterboard that was carved out, sealed with packing tape, then paper mached, painted and clear-coated. I glued a cording to it so I could tie it on as well as using hairpins and bobbypins.
The diamonds on the skirt are made of the same satin as the underdress with stiff craft felt in between the layers to keep the shape better then interfacing. They're attached to a thin ribbon (which is then attached to the sash) with crystal beads acting as spacers. (as well as a small reference to the Pokemon Crystal video game) My overall idea was to make the dress as billow-y as I could considering Suicune is known as 'The North Wind' in the games. I was also trying to give it an almost delicate look that was somewhere between a Chinese Hanfu and a Japanese Dance Kimono to match Suicune's graceful design.
For the wig I instantly knew that I wanted to use an EpicCosplay wig. They're known for how thick their wigs are and that's exactly what I wanted for Suicune's thick main of waves. When I ordered it the curly wigs were out of stock so I ordered a straight one instead. I wanted it to have more of a wave than a curl so instead of curlers I braided it then used hot water to set the waves.
The entire cosplay it took me about 40 hours, give or take a couple.