This awesome Minoru Mineta cosplay offers a feminine take on the My Hero Academia character. Minoru Mineta is a fan favorite, infamous for his perverted and impulsive antics.
Cosplayer paraphrase took care to ensure this genderbend Minoru Mineta cosplay retained recognizable features. Swapping out the uniform pants for the skirt ensured this version would look right at home with the other girl students.
Name: @paraphrase
Photos by: @weneals_photography
Costume: Minoru Mineta
EpicCosplay Wig: Hestia & 15″ Weft Extension in Purple Black Fusion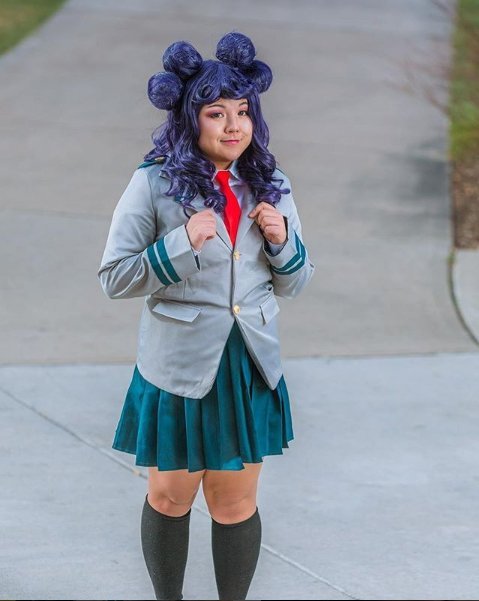 Minoru Mineta Cosplay Wig Styling
One of the features that makes this cosplay so recognizable is the wig, styled to look like Grape Boy's distinctive ball-shaped hair.
This design uses the Hestia wig from Epic Cosplay as a base. The color, Purple Black Fusion, proved to be an excellent match for the character. This wig measures at 22" in length, pre-curled to fall below the shoulders on most wearers. The bangs reach 4" long. This wig styling process utilized that extra length to create tight curls at the forehead.
In the series, Mineta's superhero quirk is "Pop Off". This ability lets him grow super sticky hairballs that he can remove and throw at will. While this ability is often mocked as one of the most useless, underestimating it would be a mistake. Mineta has used these adhesive spheres in smart ways – building traps, scaling walls, and more.
To create the spheres, matching 15" weft extensions from Epic Cosplay were styled into orbs and securely attached. Many cosplayers make similar buns by laying wefts over a core of foam. Normally that foam would fit over a stubbed ponytail, but for long styles like this, it is more common to clip or glue the foam to the wig foundation directly. Epic Cosplay also sells convenient clip-in buns in the Purple Black Fusion colorway.
What do you think of this Minoru Mineta cosplay? You can also find other My Hero Academia cosplays that use our Epic Cosplay wigs by following this link.