Cosplayer:
MiryokuCosplay
EpicCosplay wig: Chronos in Autumn Gold for Ambitious Elf Jinx cosplay from League of Legends
Are you looking for a little bit of holiday-themed cosplay inspiration to help you prepare for the winter convention season? Get into a festive spirit with this Ambitious Elf Jinx cosplay by MiryokuCosplay! This skin was released as part of the Snowdown 2017 event, certainly becoming a quick favorite with Jinx mains.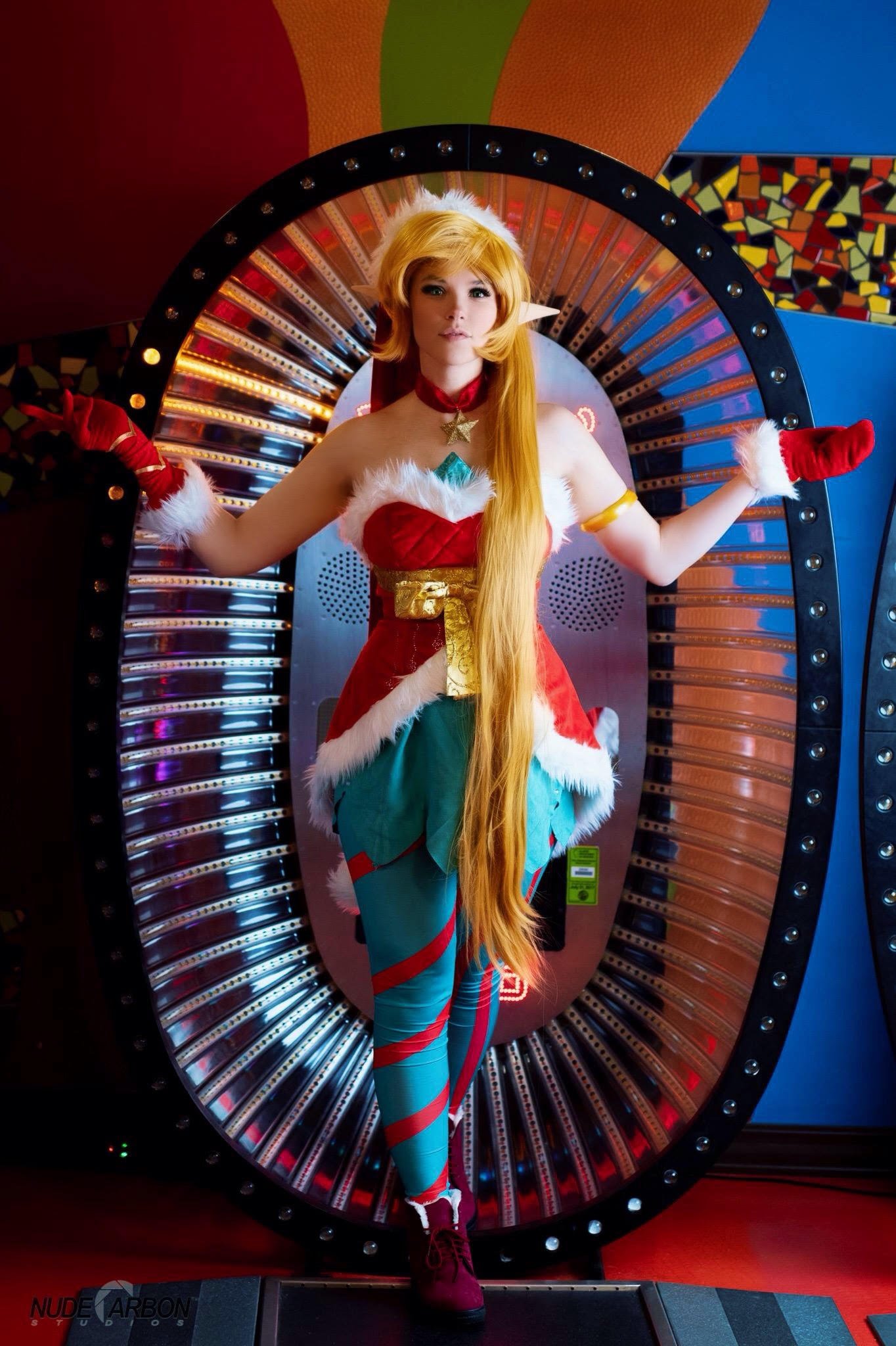 MiryokuCosplay shares a few important links to credits and sources below. Then, keep reading to learn even more about the wig components from EpicCosplay that went into crafting such an accurate style for this character.
📸: @nude_carbon_studios
Minor edit: @miryokucosplay
Cosplay: Cos1ove on AliExpress
Boots: DADAWEN Suede on @Amazon
Wig: Base @epiccosplaywigs Chronos & 50" Straight Ponytail Clipon both in Autumn Gold
Styled by: @miryokucosplay
Ears: @elven.caravan Link Takko in "Fair"
❤️🎄❤️🎄❤️🎄
Behind the Style: Ambitious Elf Jinx Cosplay Wig
As mentioned in the credits previously, featured cosplayer MiryokuCosplay used components sourced from EpicCosplay to create this amazing Jinx wig. The base is the Chronos model. Chronos is a great base wig – it measures at only 14 inches in length, making it easy to manage while building up major modifications.
The bangs of the Chronos wig measure at 8 inches. A skin top sits at the crown of the wig, offering a variety options for part directions. This great Ambitious Elf Jinx cosplay wig mimics the character model and official artwork in detail with dramatic bangs swept to the side. Of course, EpicCosplay wigs can withstand temperatures up to 410 degrees, making it possible to set holding products with heat to build up the impressive lift and volume achieved with these bangs.
Rather than tying a long wig into a ponytail, MiryokuCosplay took an efficient approach by adding a ponytail clip-on extension. These extensions are available from EpicCosplay as well. The extension used here measures 50 in length. EpicCosplay wig fibers are tangle-resistant to keep lengthy styles like this one looking neater overall after a long day of photoshoots. And when it comes to a style as long as this Ambitious Elf Jinx cosplay uses, tangle-resistance can make all the difference.