The indomitable Yu Takeyama showcases her larger-than-life hero form in this Mount Lady cosplay by Ame Cosplays.
Relatively new to the pro hero scene, this character relishes attention from the press and public alike. She's even happy to steal the spotlight from other heroes with her powerful moves and irresistible charm.
But this character is even more impossible to ignore after transforming. With the quirk of gigantification, Mount Lady dominates the skyline at over 67 feet tall. Read more about the creation of this Mount Lady cosplay after the photos:
Name: Ame Cosplays (@ame.at.your.service)
Photos by: @cocochocoboo, @s1price_lightworks
Costume: Mount Lady
EpicCosplay Wig: Daphne in Natural Blonde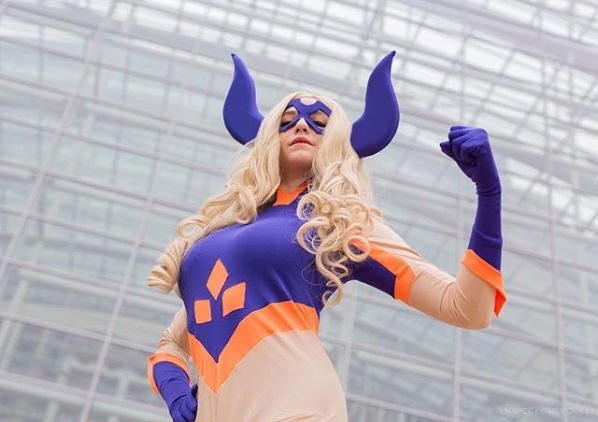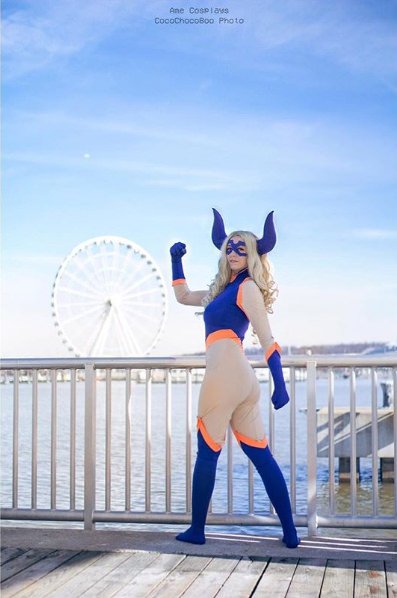 Behind the Mount Lady Cosplay Wig
The character's flowing blonde locks were a natural match for the Daphne wig from Epic Cosplay. The design arrives already curled, parted down the center, and bouncing with volume. In fact, the wig likely required the least amount of customization compared to other parts of the Mount Lady cosplay.
In the anime, the character has straight hair in the back with curls framing the face. Ame Cosplays decided to go with voluminous all-over curls for this costume. This makes for a dramatic look and seamlessly hides the base of the horns.
However, the Daphne wig is an ideal candidate for anyone who wants to achieve the straight and curly combination for their own Mount Lady cosplay. This wig can withstand heat up to 410 degrees. An ordinary flatiron can relax the curls and hot water with curlers can put them back.
The Mount Lady Cosplay Bodysuit
The bodysuit design is especially impressive. While there is no shortage of basic bodysuit patterns available, this one is anything but simple. The complicated appliques and accessories make this Mount Lady cosplay especially accurate. The seamless contoured fit likely required careful planning as well.
Like the hero herself, this cosplay is deserving of attention and admiration – a powerful look to suit a powerful character.