The young leader of the Gerudo showcases her royal vestments and flowing locks in this gorgeous Riju cosplay by Lakayla Smith.
Introduced in The Legend of Zelda: Breath of the Wild, Riju found herself thrust into the position of chieftain after her predecessor, her mother, passed away unexpectedly. Despite any doubts, this brave young leader rose to the occasion and served as a powerful ally in the quest to free divine beast Vah Naboris.
This detailed Riju cosplay is impressive from every angle. The jewelry, the colorful patterns, and the composition all feel very true to the character.
But one feature that especially stands out is the tremendous wig. This character's hair is super long and thick, recreated here in all its glory. Creating a wig this detailed requires a skilled touch and knowledge of some pretty advanced styling techniques.
Name: Lakayla Smith (@harajukukay)
Photos by: Unknown
Costume: Riju
EpicCosplay Wig: Demeter in Apple Red, Two Athena's in Apple Red, a pack of Autumn Orange and Apple Red Weft Extensions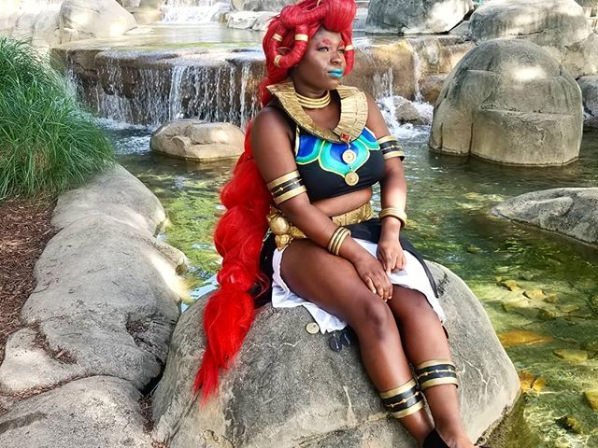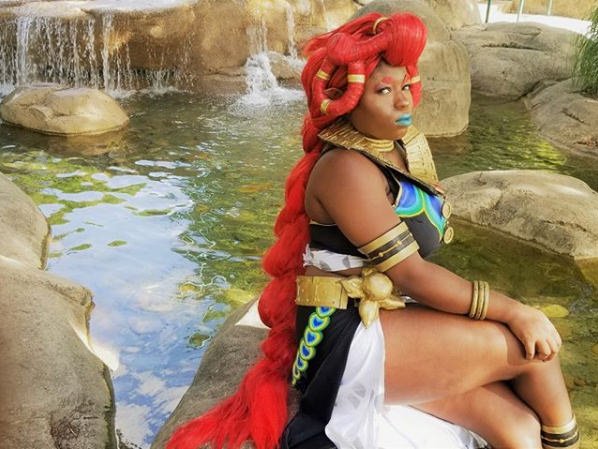 Riju Cosplay Wig Components and Techniques
Creating this gorgeous wig required not one, not two, but three of the longest wigs available from Epic Cosplay. Demeter is the longest one used for this Riju cosplay. It measures at 60" long and includes 15" bangs. The other two wigs were the Athena model. These are 40" long each, and they also include 15" bangs.
Lakayla also included two packs of Epic Cosplay weft extensions. One of them is in the Autumn Orange colorway, used to create beautiful orange streaks within the wig. The other pack of wefts featured the same Apple Red Mix color as the main wig selections.
Building the voluminous braids and the decorative loops required expert wig engineering, from shaping the underlying forms to deconstructing and securing the individual wefts. The result? An accurate, eye-catching, and unforgettable Riju cosplay.