We've got a few new Show Us How You Style submissions from the lovely ladies of Human Sushi Cosplay! For ease of reading we decided to break their submission into three separate posts (since they were covering three separate characters)! This one is the first of three and features their Miaka Yuuki cosplay from Fushgi Yuugi! They used a Chronos wig in walnut brown (or dark brown) and our 15″ weft extensions in walnut brown to achieve the look they needed! Scroll down to see pictures and read about how they got this EPIC style!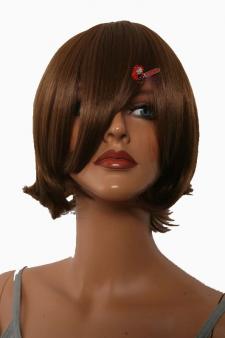 Miaka Yuuki from Fushgi Yuugi –
WIG: 12″ Walnut Brown Layered Bob Short Cosplay Wig and 15″ Walnut Brown Hair Weft Extension
Styling time: 4 hours
Styling notes: The buns are styrofoam balls, each wrapped in 1/2 of the weft fiber. The process was fairly simple, but really time consuming. The styrofoam balls have to be hallowed out and a hole poked into the top of the ball for the weft fiber to come out of. It's recommended that you work with about 1/4″ pieces of weft fiber at a time, wrapping it around the ball and then hot gluing it to the inside of the hallowed out ball. I'd also recommend using 1 weft for each bun, rather than splitting a weft in half, just to make sure you can completely and evenly cover the entire styrofoam ball. Once the balls were covered, they were hot glued right to the top of the wig and the decorations (the crown, ribbons, flowers, beads, etc) were added.
Personal thoughts: First off, I'm so excited to have a short wig! Secondly, the wig cap fit SO well, that I didn't need to use a lot of pins. The fibers are really soft, the color is great, the wig is super thick. Epic wigs are awesome!
Photo by: Sweet Sensation Photography