Here's the second cosplay of Human Sushi Cosplay's Fushgi Yuugi group! This post features the process they went through styling Nuriko's wig! They utilized our Persephone wig in Lux Purple with 30″ hair extensions in the same color to achieve this adorable look! Check our pictures and the story behind how the wig was made below!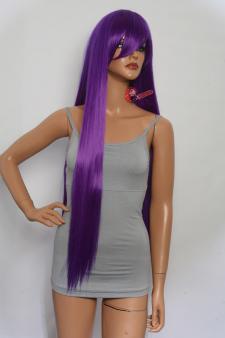 Nuriko from Fushigi Yuugi –
WIG: 36″ Lux Purple Straight Long Cosplay Wig and 30″ Lux Purple Hair Weft Extension
Styling time: 2 hours
Styling notes: The top "bun" was made by sandwiching several pieces of 16 gauge wire between two pieces of craft foam that were painted purple to match the wig. The 30″ extension was then cut into several lengths that were wrapped around the craft foam and hot glued into place. Stray fibers were smoothed down with GOT 2 BE hair glue. The "bun" was attached to the base wig with 2 1″ bolts. The base wig was then tightly braided and the bangs were trimmed and hairsprayed into place.
Personal thoughts: The base wig for this costume (36″ long straight) is by far the thickest long wig that I have ever seen or worked with; it is amazing! The fiber is really soft and doesn't seem to tangle as much as other long wigs do. The color is really rich and beautiful too. The wig cap also fits perfectly, and I didn't need nearly as many pins to secure it as I might have with other wigs.
Photo by: Sweet Sensation Photography