Adriana Akiyama stunned us with how she was able to turn our Asteria wig in dark red into this amazing style for Teto! She cut and styled our long wig into beautiful ringlets!  please read on to her story!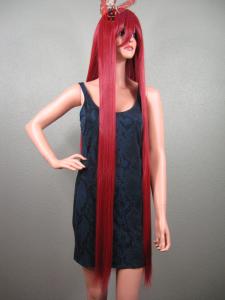 Hello there! My name is Adriana Akiyama, and I'm a cosplayer from Austin, Texas.
First off, I'd like to say thank you for offering this to everyone! It's an awesome opportunity for cosplayers to get "out there" and to snag those discounts on more of your lovely wigs.
My reason for getting into cosplay comes partially from my parents, since they're such anime/sci-fi nerds themselves, and partially from some friends that I had which were into cosplaying–that's what sorta motivated me as I got older to start getting more serious about this hobby of mine. I've been cosplaying for a number of years; granted, I'm not old, but it's been a good number of years for me. My favourite part about cosplaying is the sheer passion that cosplayers put into every costume. The look on their faces full of excitement, love for the characters/shows, and the fact that anyone involved is sure to meet such wonderful people that are just as driven. One of the reasons why I chose to cosplay this character is because I've always had a thing for the UTAUloid Teto Kasane, and being sorta like a "knock-off Vocaloid" as some say, she has many alternate outfits. The makeup that goes into this looked kinda cool, and the song–called "Matryoshka"–is really catchy.
I'm gonna say this now, for this particular character, I absolutely HATE those prestyled clip-in sausage curl wigs. I'm sorry, but they're hideous and the character has distinct signature hollow ringlets. I just felt that I had to do her justice and actually make them hollow, y'know? After trying several methods, I found out the best way for the ringlets to be hollow and not too heavy, is by sewing on thin sheets of bendable plastic to the wig. Literally lots of blood, sweat, and tears went into the making of it, as well as countless hours. It was difficult, but, hey, I completed the styling, right? Once styled on the wig head, it must carefully be transported from the head, onto mine–and that's where I usually need help, since it's so delicate, I cannot do it alone. It's gotta then be secured in with a couple dozen wig clips to make sure it doesn't slip, and voilà! It's all set to be worn for a con.
Originally, I had bought the 50″ Dark Red Straight Extra Long Cosplay Wig for Teto's "default" outfit, which I cosplayed as well, but didn't get any good photos taken in it, which is why I'm submitting this alternate. After looking around, I wanted to buy a wig that looked as natural as possible (i.e. not shiny/too fake, stringy fibers, heat resistance, etc.) and from a U.S. seller. Epic Cosplay wigs seemed like the best choice after reading such wonderful reviews. When I finally got it three days later, I noted that it was perfect! The length was exquisite, the texture and look of it were right on. I knew I had made a good choice. I really liked how many layers of wefts were on the wig, making it very nice and thick, too. Probably the most difficult part of the costume was the wig styling itself. I had to look for a wig that was very long, as the ringlets I chose to make would require a lot of hair. As for cosplays in the future, well, that's a tough question. There is never a time when I can say, "Okay, Adri, pick ONE cosplay." Us cosplayers tend to compile a long list of future cosplays we wish to start working on eventually, and I'm no exception to that. As for right now, I know for sure that any and every Mio Akiyama (from K-On!) outfit, I plan to cosplay. She's kinda my signature cosplay that everyone knows me best for, and I've already done so many of her outfits since I started cosplaying her several years ago.