"I'm going ghost!" Well, we aren't but Benjamin sure did! He entered his Danny Phantom cosplay from Nickelodeon's hit show Danny Phantom into our Show Us Your Moves contest! For this cosplay he used our Hermes Wig in Classic White! Check out his entry below!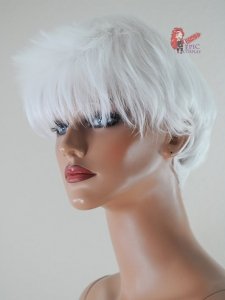 The wig I am wearing is the Hermes – 12″ Boycut Men's Classic White Short Cosplay Wig
I've been cosplaying for a few years after going to my first con, it's really fun to not only be a different person for a little bit but to be a person you really enjoy seeing in your favourite show and being a person other people really enjoy as well!
The character I selected is Danny Phantom from the show Danny Phantom on Nickelodeon! He's one of my favourite characters from my favourite show and cosplaying him is one of the funnest things for me!
The most difficult part about this costume was wearing it in a con for an extended amount of time, it's made out of pvc and so it would get really hot and it limited my movement a bit.
I am planning on doing more cosplays such as Rapunzel from Tangled and Tom Riddle from Harry Potter and am looking to get one of Epic Cosplay's extra long wigs.
The wig I wore for this costume, however, was a really great wig! It looked really natural and was often confused for my real hair. It was a good length and a good style, I highly recommend it to people looking for something like it.