Elysia submitted an entry featuring her Ezra Scarlet cosplay from the popular Fairy Tail series! To complete her look she used our Athena Wig in Dark Red. (Discontinued, replaced by Persephone) Check out her entry below!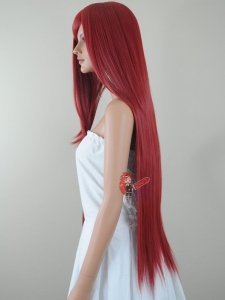 Wig Used – Athena 40″ Dark Red (Discontinued, replaced by Persephone)
-Entrants should talk about their cosplay, what they used to make it or how they decided which one they wanted to purchase, etc. A list of possible questions you may want to cover is at the end of this page.
I cosplayed Erza Scarlet in her Seduction Armour from the anime "Fairy Tail".  I originally bought this wig with the hopes of doing a different version of this same character that was much more complicated, but ran out of time to get it done by the convention.  This cosplay was much simpler and less time consuming.  I bought most of the pieces, though I did modify the gloves and stockings to appropriately match the character (though it's not seen well in this picture, the stockings are plain black with fishnet on top, and there was a pink stripe with a bow attached at the top of each)  I also painted the sword.  I chose the character because I love her tough attitude, how she always sticks up for her friends, and how she never gives up.
            – If applicable, the entrant is responsible for obtaining permission to use the image from the photographer and any cosplayers also in the image. This is so that we can share these images on our Facebook page and website.
The photo was taken by Ronald Ladao and he has given me permission to use it
– What got you into cosplay?
I started cosplaying back in 2006.  My first cosplay was horrible version of Edward Elric that was pretty much unrecognizable!  When I got to the convention, I saw how amazing everyone else looked, and that inspired me to keep working hard at my cosplays and to improve.
– How long have you been cosplaying?
2013 marks my seventh year as a cosplayer
– Were there any particular reasons you selected this character?
I loved the series "Fairy Tail" and knew I wanted to cosplay someone from it. I chose the character because I love her tough attitude, how she always sticks up for her friends, and how she never gives up.
– What would you consider the most difficult part of this costume?
The toughest part was getting the stockings to stay up!  I made a bad last minute decision and decided to attach the top pieces with velcro instead of elastic. I spent a good chunk of the convention pulling them up and trying to get them to stay in place!
– What cosplay would you like to do in the future?
I'm currently working on Vaporeon from Pokemon, Levy from Fairy Tail, and Layla from Kaliedo Star.
– What's your favorite part about cosplaying?
My favorite part about cosplaying is definitely the people I meet because of it.  People recognize your character or the show it's from, take your picture, and you get talking and the next thing you know, you've made a friend for life.  I've made countless friends thanks to conventions and cosplaying, and I'd hate to imagine life without them!
 -What do you like about our wig?
I love the adjustable straps on the inside so it can fit my abnormally small head!  It's also made with fairly good, strong elastic, so I can manage to keep it on without a wig cap.
Name: Elysia Whipple
Alias: Washu Takahashi
Character: Ezra Scarlet (Seduction Armour)
Anime: Fairy Tail
Photographer: Ronald Ladao