We have another entry for our Show Us Your Moves Contest!  Here we have Lady Staba in four different cosplays!  First is her Mistress 9 cosplay from the series Sailor Moon!  Next is Yoko Littner from the series Gurren Lagann!  Then she has her Saeko Busujima cosplay from the series High School of the Dead!  Finally her fourth cosplay is Maya Natsume from the Tenjou Tenge series!  For each of these cosplays she used a different wig.  In order of her cosplays she used our Demeter Wig in Black, Persephone Wig in Apple Red, Persephone Wig in Violet Purple and Asteria Wig in Fusion Vanilla Purple wigs!  You can take a look at each of her cosplays and the wigs and find out more about her cosplaying!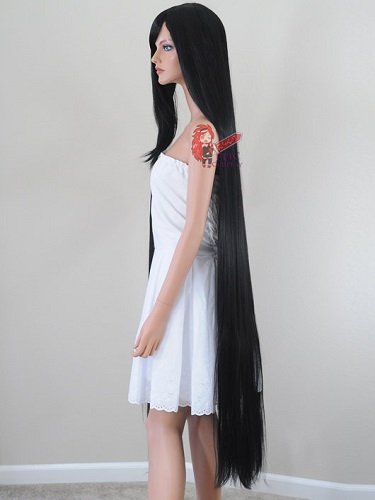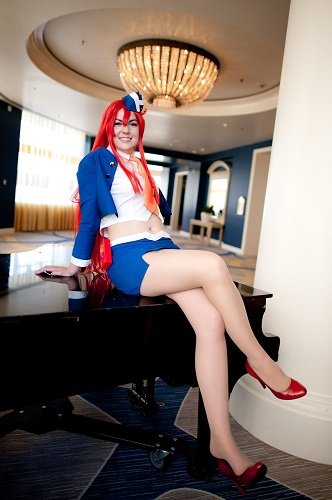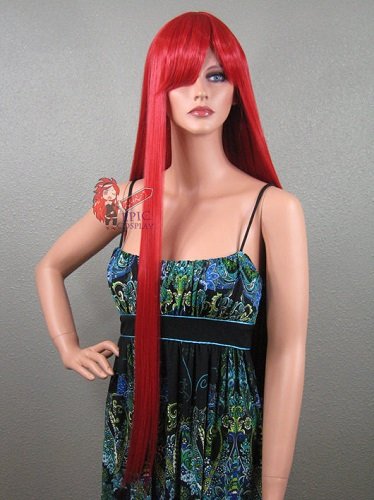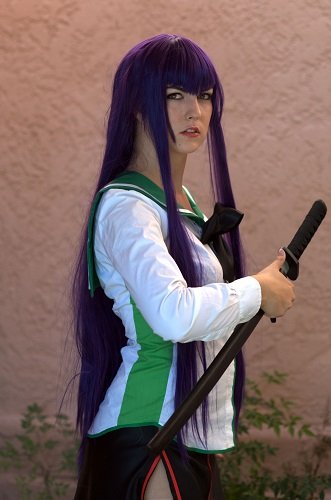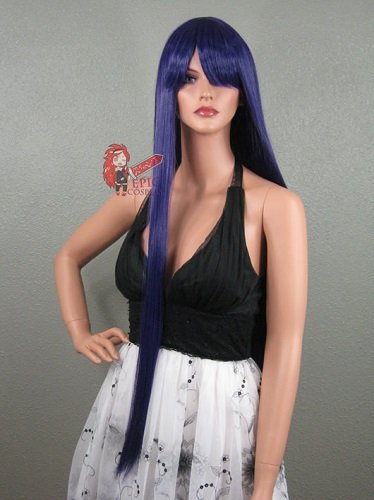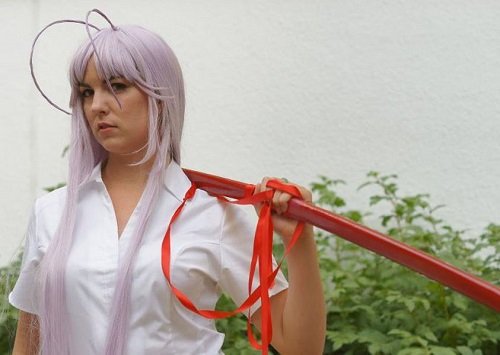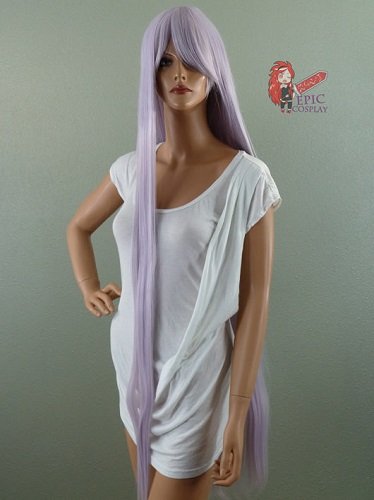 I got into cosplay because I've always loved to sew and have always been very crafty!  I initially started off drawing anime, but once I discovered cosplay I was hooked!  I've been cosplaying since 2010, Fanime 2010 was my first con and my first costume!
The first photo is of Mistress 9 from the Sailor Moon anime series:
The reason why I picked Mistress 9 is simple!  She's crazy, evil and glamorous who wouldn't want to be her?  The most difficult part of the costume was the bodice, and there are some things I'd like to change, but overall I very happy with the results!  The wig I used was the Demeter 60″ extra long straight wig in black.  Mistress 9 has very long iconic hair, so I needed a high quality wig that could take the abuse.  It did wonderfully, and whats best is it de-tangled soooooo easy.
The second costume is Yoko Littner of the Tengen Toppa Gurren Lagann anime series, I did the Pieces of Sweet S.T.A.R.S. version:
This costume went together pretty easily, it was just a matter of picking the right materials.  I made everything including the tie and button up blouse.  I'm very happy with the results!  And it's super fun to wear!  The wig I used was the Persephone 40″ Apple Red.  I love this wig, and I plan on wearing it with many other versions of Yoko it is so durable!
The third costume is Saeko Busujima from HOTD anime:
This costume I actually had a hard time with!  Stupid sailor collars!  I really  love serious kick ass women in anime, and Saeko is definitly that!  Again I used the Persephone 40″ wig in Royal Purple, love it!
Lastly, my second cosplay ever, Maya Natsume from Tenjou Tenge anime series:
Yet another badass chick!  This character it was hard to pick a wig for, since her hair changes from manga and anime versions.  I really wanted to do the light purple version of the character.  I actually bought this wig from an epic cosplay booth at Sacanime a couple years ago.  It is a lavender blonde fusion at 50″, and it is the PERFECT color.  This was my first epic cosplay wig and is still one of my favorites!  Even after 2 years of wearing the costume on windy days and crowded cons, it still looks beautiful!
Thanks for taking to time to look at my photos!  Many of my friends have purchased wigs elsewhere and end up having a horrible time with them.  I've only ever purchased your wigs, and you always seem to have the color I need!  My next purchase will probably be the Peach Blonde curly Hera wig, the Nyx 28″ wig in Light Brown and Purple Black fusion, and the Chronos Classic Green wig.  I can't wait!  (well, wait after tax return, lol)
-Lady Staba
https://www.facebook.com/LadyStaba