Here's another entry for our Show Us Your Moves contest!  This time we have Michelle cosplaying as Kurama from the Yu Yu Hakusho series!  She combined two of our wigs for her cosplay, our Athena Wig in Apple Red (replaced by a mix) and our Nyx Wig in Apple Red (replaced by a mix)!Take a look at her cosplay and see more info on her cosplay habits!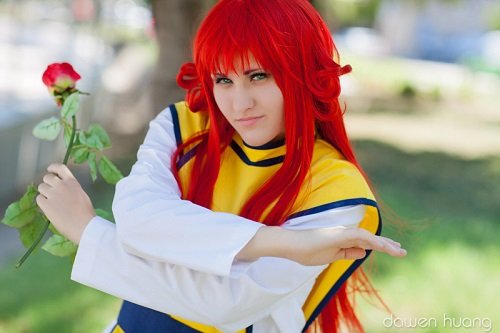 What got you into cosplay?
Many years ago at Comic Con I saw people cosplaying and I thought that it looked like so much fun! So my sister and I decided to try it. My first cosplay was Kikyo from Inu Yasha, but it wasn't until a few years later that I started to make my own costumes with my family.
How long have you been cosplaying?
I been cosplaying since 2005 so I been doing this for almost 7 years!
Were there any particular reasons you selected this character?
Yu Yu Hakusho is my favorite anime and Kurama is my favorite character from the show. His outfit was the costume I originally wanted to make when I first started cosplaying, but I waited many years to create this costume and I am glad I did!
What would you consider the most difficult part of this costume?
The wig was probably the hardest part. It was more so time consuming and painful than difficult. It is made out of 2 Epic wigs in the color Apple Red. I used an Athena- 40″ and a Nyx 28″ wig. I took out all the wefts out of the shorter wig and sewed them into the longer wig. The sewing took hours. I then cut and styled the bangs and sides with hot rollers.
What cosplay would you like to do in the future?
I want to make Ariel from The Little Mermaid soon. I love Ariel and I love red hair!
What's your favorite part about cosplaying?
I love making new people and friends. Cosplay is how I have met many friends. I have made many lasting memories because of this hobby.
What do you like about our wig?
Epic wigs are silky and soft!