Ashley of Orah's Cosplay sent us another submission with another EPIC cosplay! This time she sent us pictures and her submission of her Paddra Nsu Yeul cosplay! She utilized our Persephone Wig in Gunmetal Grey to achieve her look! Check out her pictures and story below!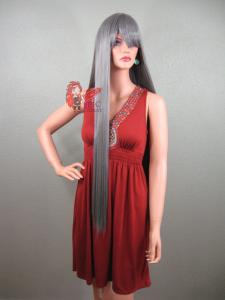 I have gained permission to use these photos as long as they are not altered or its watermark removed.
Wig Used: 36″ Gunmetal Grey Straight Long Cosplay Wig
Character: Paddra Nsu Yeul
Series: Final Fantasy XIII-2
Photographer: PhotoPersuasion
How wig was styled!
Sides where cut to frame the face. Then bangs parted in the middle, tucked behind ears and then secured with bobbin pins.
Hiya again! It is Orah's Cosplay! This time I am cosplaying Yeul from XIII-2!
I used EpicCosplay's 36″ Gunmetal Grey Straight Long Cosplay Wig, because it was the prefect grey for the game references and it changed color in different lighting. I picked Yeul because I love native American/African inspired tribal wear and so Yeul was planned back in December of 2011. The hardest part of this cosplay was the endless fittings my friend had to do. (It is nearly impossible to fit yourself without help.) The top was made to fit to my curves exactly>< and painfully! D: THE PIN SCARS!! This cosplay was done over a span of four months! I have made everything by hand from the top to the shoes!
Why do I keep going back to EpicCosplay for my wigs? They are just beautiful! The quality is outstanding! My wigs hardly shed and I don't have to worry about them acting up or being evil. They are worth every penny, and I will continue to be a faithful returning customer!
For more pictures and info on my cosplays "Like" my page www.facebook.com/OrahsCosplay