Cat Chan Cosplay sent us an amazing Show Us Your Moves submission of her Yukari cosplay from The Touhou Project! She had a great time working on planning out how she would make this beautiful gown come to life and creating such an intricate piece! She used our Hera Wig in Natural Blonde to complete her look (we've put a picture of the Hera in Caramel Blonde for a reference because it is currently out of stock). Read on to see pictures of her cosplay, a picture of the wig, and to read her story! The photos are courtesy of Squidflakes!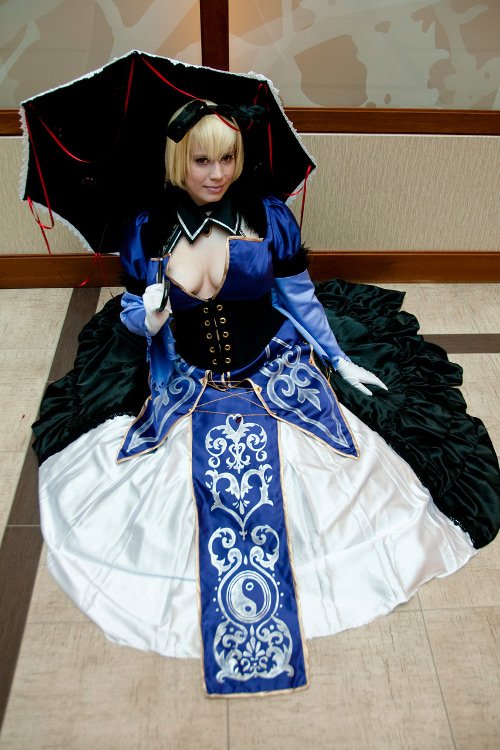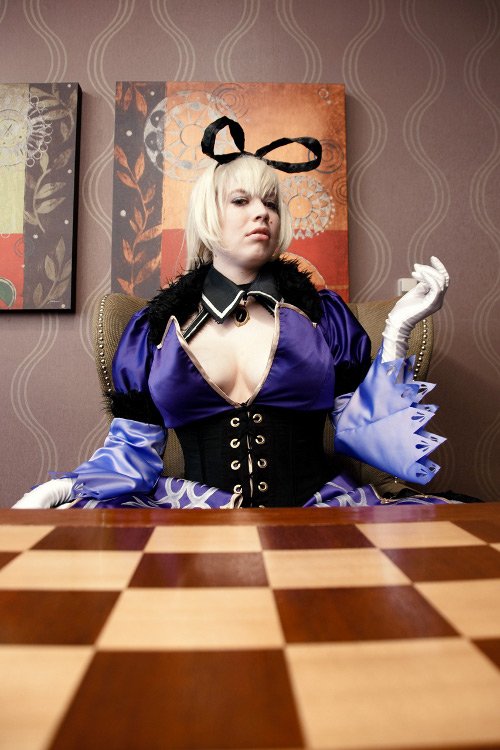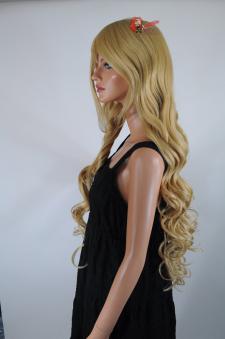 Hello, I'd like the enter the show us your moves story contest, here is a little bit about the costume I'm submitting:
I've admired the cute girls from Touhou for a while now and often had the idea to cosplay from the game series in the back of my head. Then one day while chatting with a friend online he posted the artwork from Koumajou Densetsu II (a dojinshi game) and I saw her, Yukari Yakumo, decked out in a lavish and beautiful gown and I knew in that moment I HAD TO MAKE THAT DRESS. Yukari is probably the most ambitious solo project I've ever taken on and working on her was quite an adventure. I had to make nearly everything, possibly including a custom bra, to be as true to the original design as possible.
For her purple dress I knew I had to have ample support and a perfect fit so I made a mockup to ensure it would fit perfectly and then faced the entire dress in twill for strength. All of the designs painted with a stenciling method and the gold bias tape is made by hand (yards and yards of ironing T___T).
The corset is 3 layers and boned with industrial cable ties. Those things are my secret weapon for boning corsets that only need to offer structure and you aren't concerned with any real reduction. They are really cheap and strong and you can buy them at a hardware store.
The skirt is almost a full circle with 3 tiers of ruffles I made using a ruffler foot. They are all finished with a rolled hem. The skirt was definitely the most tedious task.
Of course, lets not forget the amazing wig! (wink wink) Seriously, this was my first epic cosplay wig and I must say it was a joy to work with. I started out with a 38″ wavy in Natural Blonde and styled in the bangs. The best thing about this wig is that it brushes out really easily, which is great since it's so long. A+
So far I've had the pleasure of wearing this costume twice, and while it was a little odd to be that decked to the nines at 10am in the morning it was still a lot of fun to wear.
Interview Questions:
– What got you into cosplay?
I went to my first con in 2004 and I saw for the first time what cosplay was. I said, "I'm going to cosplay at the next convention!" and I've never stopped since.
– How long have you been cosplaying?
9 years 🙂
– Were there any particular reasons you selected this character?
aside from DAT DRESS? Yukari likes to sleep all the time. I like the sleep all the time. Seemed like a good plan to me.