In light of the amazing success the new Avengers movie has obtained, many have been cosplaying great characters from the Marvel Universe! We were recently sent a submission in by Ger who did the original comic book version of Black Widow! Check out her awesome cosplay and story below! If you're interested in picking up her wig she used our Hestia Wig in Copper Red!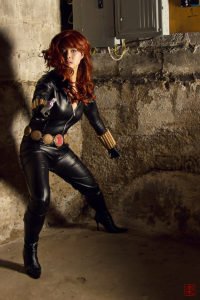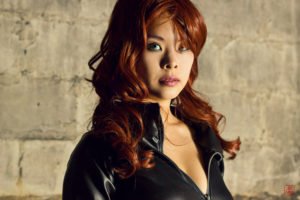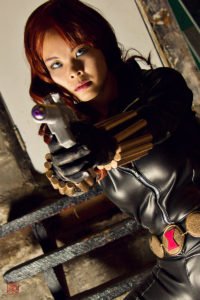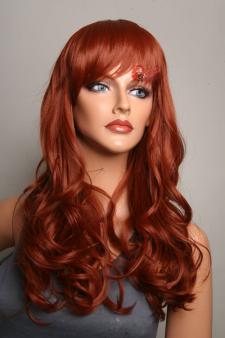 I'm Ger Tysk, from Boston, Massachusetts. I'm a photographer, artist, and cosplay commissioner. The photos of this costume were taken by me as self-portraits 🙂
I've been cosplaying for about 5 years now, starting from my very first self-made costume for Halloween in 2007 and my very first
convention, Anime Boston 2008. When I first started, the cosplay scene in the U.S. had few domestic wig sellers to choose from, and I used to just buy my wigs from eBay from overseas, hoping I would get a quality product. Sometimes it worked and sometimes it didn't; the worst was having to wait for over a month for the wig to come in! Forget last minute costumes and ordering another wig if the one you got in the mail wasn't the color or style you wanted.
Epic Cosplay (development.epiccosplay.com) changed all that. The pictures above are from my Marvel Black Widow costume, which I made for the Avengers movie premiere. I hadn't planned on cosplaying this character until about 2 weeks before the movie, when one of my friends asked me to come in costume to the showing. I already had all the materials for the costume from scrap fabrics, but I had no wig. One of Black Widow's trademarks is her flame-red hair, and I couldn't afford to cheap out on it, so I checked Epic Cosplay hoping that there was a wig in the color and cut that I wanted…and there was! The 22″ Copper Red wig came in the mail in a record-whopping 2 days.
The rest of the costume is a black clothing-grade vinyl with just a little bit of stretch. I made the arm cuffs from wood dowels, sanded and painted with gold spray paint, and the belt is made from furniture casters wired together. One of the things I love about cosplay is
taking every day objects and making them into something entirely new! The boots and gloves I already owned. Together with the wig the costume really came together and my friend and I got tons of pictures  from people who had come out to see the Avengers.
I do wig styling and commissions and I've ordered other wigs from Epic Cosplay before for customers in the past, so I already knew the wigs were super soft and awesome quality, but this was the first time I had gotten one for myself. For such a short-notice costume, Epic really delivered, and I couldn't have done it without you!
I've two other Epic Cosplay wigs sitting in my costume stash waiting for my costumes to be finished so I can wear them – a 12″ black wig that I plan to style into Sai from Naruto, and another short silvery grey for Edge Geraldine from Final Fantasy IX. Right now, I'm planning one of my dream cosplays, Azula from Avatar: The Last Airbender. The most difficult part of that will be her hair, since she has a really low widow's peak, so obviously right now I'm already looking into wigs that I want to use!
I plan to keep cosplaying for a long time – I tell people that I'll keep doing it as long as it's fun, and right now with all the friends I've made, the things I've learned, and the people I've met through cosplay, it's the most fun it's ever been. Thank you to people like
Epic Cosplay who recognize that for us, cosplay is a way of life.