Hey there! Check out Heidi P. using a combination of our Selene wig in Dark Red and our 30″ extension in Dark Red! Check out her story below!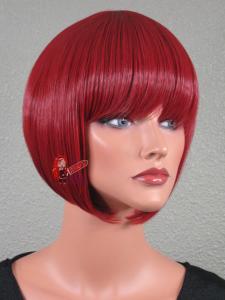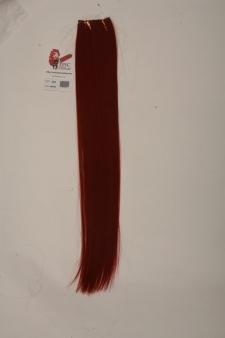 This wig was put together using "11 inch Dark Red Layered Bob Cosplay Wig" and "30 inch Dark Red One Piece Hair Weft Extension".
What got you into cosplay?
Last year, I decided to buck up some courage and attend my first convention.  As a fan of Star Trek, I chose to also dress up as Jadzia Dax (Star Trek Deep Space Nine) and hopefully get some pictures with Michael Dorn.  At the time, I was not aware of the term 'cosplay' and simply thought I was dressing up in a Halloween costume bought online.  The moment somebody recognized my character, addressed me as such, and asked for a photo on top of it all, I was hooked.
How long have you been cosplaying?
I am still quite new (about 1 year) to everything cosplay, but what I lack in experience I think I make up in enthusiasm and dedication to keep improving.
Were there any particular reasons you selected this character?
The character I chose to portray is Suou Pavlichenko (season finale outfit) from the anime "Darker than Black: Gemini of the Meteor".  She is a strong and admirable female character who can shoot down the bad guys with a big gun—what more can you ask? Actually, you should really watch the anime to fully understand the depth to which she carries. : )
What would you consider the most difficult part of this costume?
This costume was not too difficult to put together overall—a few trips to local thrift stores, light sewing, and a very messy session with fabric paint for the shirt. However, this was my first time putting together a military prop (PTRD-41 anti-tank rifle gun), and using a weft extension on the wig. Both ended up being pleasant and educational experiences with results that I am so happy with!
What cosplay would you like to do in the future?
Admittedly, the easier question would be, "What cosplay would you NOT like to do in the future?"  Aside from my ever-growing cosplay bucket list, I am currently working on the Korean Vocaloid SeeU, Emil from Tales of Symphonia for my sister, and starting Ensign Hoshi Sato from Star Trek Enterprise in time for the 2013 movie release!
What's your favorite part about cosplaying?
Aside from ironing and cosplay bullies, I thoroughly enjoy the entire experience.