Check out this amazing submission sent to us by Izavelle Reyes! The story she provided to us was simply touching and I think we all want a friend like hers! She utilized our Hera wig in in Dark Pink to get her look and straightened it out with a hair straightener! Sadly we no longer carry Dark Pink as a color but you can also use our Hera in Princess Dark Pink which is a close match!
Alright, with that done, here's her story!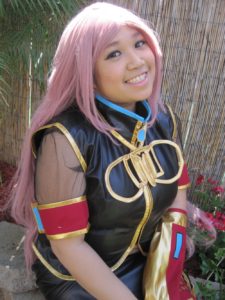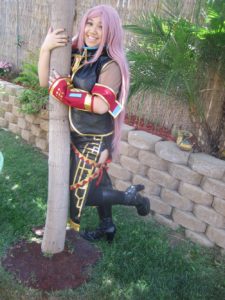 Izavelle Reyes
Wig Model: 40″ Princess Dark Pink Curly/Wavy Extra Long (Straightened)
Photographer: A friend of mine and she give full permission and disclosure to use any photos you decide to use.
The story of my cosplay and I. My cosplay was actually a gift from someone very special to me. They had wanted to see me in a Luka cosplay so much because I loved her and I was obsessed with her and her music. Sadly though I did not have the means or money to be able to make or buy it myself. So for Christmas that person had asked me for my measurements and sent it in to a fantastic shop where they made extremely accurate and custom made cosplays, I didn't know that at first though. I was really worried about it and how long it would take to get in because I had no clue what the cosplay was made of or even how it would look. But I trusted that person's judgement. Not only was it a fair price but the cosplay was accurate, made of amazing material, and it came with more pieces than all other Luka cosplay at that price.
What got you into cosplay?
I saw things that I liked as a child since I was into anime and when I was little I remember I would beg and plead my parents to let me dress up on Halloween as a Sailor Scout from Sailor Moon and sadly they would say no. But when I watched the show I would put on my little red boots and twirl around as if I was transforming. But that was as far as it got. When I got older though those memories stayed with me.
– How long have you been cosplaying?
I have been officially cosplaying since I was 12 but I started conventioning when I was 10 years old. But I had taken a long hiatus until about two years ago where I began to cosplay a lot more often than I had in the past. So more or less two years now.
– Were there any particular reasons you selected this character?
I had always loved Megurine Luka and she was my favorite Vocaloid. She was different from the others because she was older and she was less cute but more mature and at that time I thought that I should try an older character who is closer to my age and steer less from cuteness.
– What would you consider the most difficult part of this costume?
Making sure that none of the many pieces would fall when moving. The armbands were a little too big and my leggings would always fall whenever I walked and before I found a solution to that problem if I
hadn't kept pulling them up, the leggings would have been on the floor.  The mesh for under the shirt was also really difficult to keep in place.
– What cosplay would you like to do in the future?
There are many cosplays that I would like to do in the future and they range from Gasai Yuno of Mirai Nikki and Rika Minami from Highschool of the Dead to even gaming characters like Lady from Devil May Cry or Taokaka from BlazBlue.
– What's your favorite part about cosplaying?
My favorite part about cosplaying is going out in town like the mall in the cosplays and getting all the looks and stares from people. But what I love is when random people come up to me and know what the cosplay is. It makes me really smile and my face brighten up when others appreciate the hard work or money that had been put into whatever I wear.