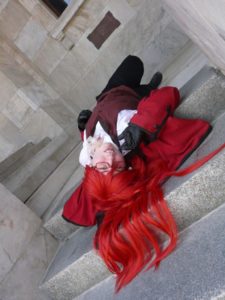 We've been getting a large number of submissions as of late! Jacynta was awesome enough to send us her story of how her friend suggested that she buy from us and how she won't buy from any ever since! She has an awesome cosplay and we love her story! We hope you will too!
She used our Athena Model wig in Apple Red (discontinued, replaced by Persephone) to achieve her look. That wig is pictured below.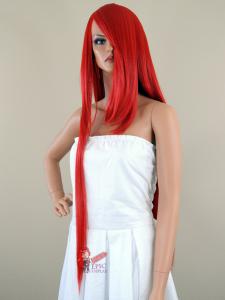 Hey Epic!
My name is Jacynta, I got by ZetraGild cosplay in the community!
This is my Grell Sutcliffe cosplay from Kuroshitsuji/Black Butler! 🙂
For this I chose a 40″ Apple red wig, and this was actually the very first wig I ordered from you. After months of having trouble with
Cosworx and being afraid of buying just any old long wig for fear of losing thickness, a friend sent me a link to your ebay. It got here
really quickly, quicker than I could imagine. And it was soo thick and lucious! And easy to style! After buying this Grell wig, I haven't
ever bought from anyone else. It got me hooked!
I chose this character because of his eccentricity, his love for the colour red, death and the fact that he's just absolutely fabulous! I
do relate a bit to the character, and love acting a bit over dramatic and theatrical. it's just an over all fun person to be! And since he's
got so many different outfits, I'd love to try and get all of them done someday!
I made Grell's Jacket rather quickly, it's all lined, and has black bias tape all along the edges. It was really annoying too because the
lining was bigger than the inside when I first made it so the lining kept bulging up out of the back and looked really weird until I fixed
it! Oh god! The pants are my grandfathers, that I took in and made fit better. This was a couple months after he died, so it's one of the costumes I tried to incorporate a bit of his clothing in so I'd have a piece of him with me. He was so supportive of my costumes and only saw this one at the beginning stages. </3
Have an epic week~!
~ZetraGild