Here's Margot La Rue's submission into our contest! She utilized our 30″ Autumn Gold pigtail wig! (may also refer to Theia Autumn Gold) Read on below to check out her picture and her story!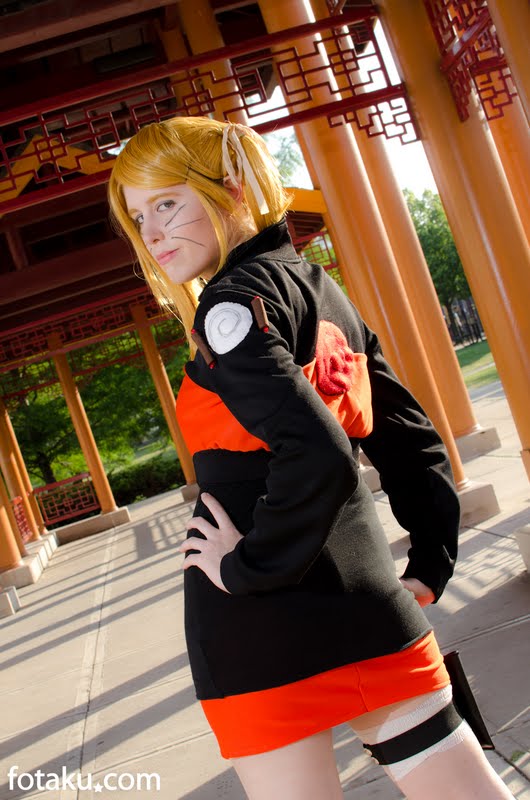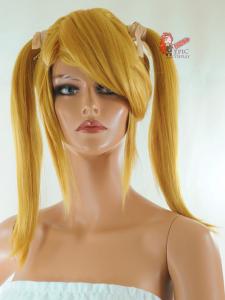 I am Margot la Rue, 23 years old and a Fashion Design student at
Columbia College Chicago.
The Photos are by Fotaku,(you can find him at Fotaku.com) with full
permission for me to use them here.
The cosplay I am submitting is Sexy no Jutsu Naruto from Naruto Shippuden.
My cosplay debut was in February of 2010: My friend Ellie was
extremely fond of cosplay and talked about it often. I was immediately
curious. Though a bit intimidated by the people I had seen cosplaying
online, I started with a simple costume. I had some experience sewing,
but there were gaps in my knowledge. I also did not have access to a
sewing machine. Since I did not get the chance to use a sewing machine
for a while, I would make my costumes by hand. When I moved from Texas
to Chicago for school, I started taking the Costume Construction
classes offered in the theater department of my College. They have
improved my sewing ability and given me confidence to take on bigger
projects.
I chose Sexy no Justsu Naruto because I am a big fan of Naruto
Shippuden.  I usually stick to Sakura.  She is my favorite character.
The design for SNJ Naruto popped into my head one day and would not
leave me alone.  I finally gave in and made the costume.
It was not overly difficult to make.The Jacket was patterned off a
jacket I already had. Once the basic shape was finished I added a
second layer of the orange fabric. I made the patches from scratch out
of some fleece scraps and ribbon I had.  The skirt (that is criminally
short) I patterned after my favorite skirt ever only shortened.
The most difficult thing to make was the patches.  I had to hand
embroider them on to the jacket. I think I watched an entire season of
Dexter doing it.
I picked your 30′ Autumn Gold Blonde Pigtail wig for this costume.
This was the first wig I ever bought from you. I thought about doing
the clip on pigtails but I had seen that a lot and I wanted to be
different. When I got this wig it was love.  It was so soft and easy
to style.  This first time I put it on, I sat and just ran my fingers
through the pigtails because they were so soft.
My next cosplay will be Kaoru Hitachiin, Ouran High School Host Club.
I already have my wig from you guys. My next Big cosplay will  be
Sailor Moon.  I have been wanting to cosplay her forever, but I have
been waiting until I could do it right. She will most likely not be
done until next year but I will be starting her soon.
My favorite thing about cosplaying is that moment when someone sees
you from acros the hall at a convention, and runs up to you jumpping
up and down because you took a charicter they love and brought them to
life. For me that is worth all the, pricked fingers, broken needles,
and frustration of making a good cosplay.