We've got an adorable new Show Us Your Moves Submission from the lovely Megan in her Luka Megurine cosplay from Vocaloid! She utilized our Persephone wig in Princess Dark Pink to complete her look! Check out pictures and her story below!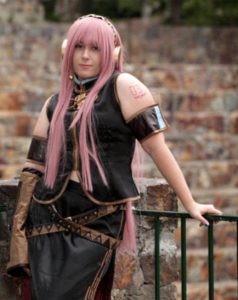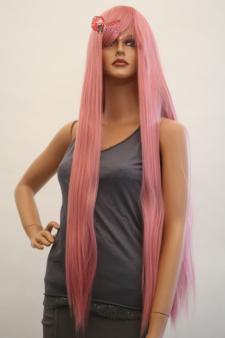 Hello everyone! My name is Megan, and I am a spunky, goofy 16-year-old
I believe the wig I am wearing for this character is: https://blog.epiccosplay.com/36-princess-dark-pink-straight-long-cosplay-wig.html
The character I am cosplaying as is Megurine Luka from Vocaloid
-What got you into Cosplay?
There isn't just one thing that got me into Cosplay. In fact, there are many. One of the biggest ones is my best friend Kaitlyn. Although I have been into it a bit before I met her, she really got me into it. Before I met her, I didn't have any Cosplay buddies, so I didn't Cosplay too much, nor did I have the desire to. But once I met Kaitlyn in 9th grade, I began to get extremely into Cosplay. Almost everything I do that is Cosplay-related, I do with her. We go to gatherings together all the time, and ever since last year we have begun to go to Anime Banzai together (which is where we first met).
-What made you decide to Cosplay this character?
            Well the answer to that question is rather simple. I was at my annual convention called Anime Banzai two years ago. I had already been thinking of characters I wanted to do for the upcoming year, but I wasn't really sure, until I approached the EpicCosplay booth. Previously I had not had any good experiences with wigs, and was hesistant to buy another one. But when I saw the wigs they had at the booth, I began to reconsider. They all looked so amazing to me, but the one that stood out the most was the extra long pink wig. As soon as I saw it, I knew that I was going to do Megurine Luka without a doubt.
Years later, the wig has still served its purpose, and surprisingly has not died on me yet considering how much it's gone through.
-What would you consider the most difficult part of this costume?
            Haha, honestly, I think the most difficult part of this costume is wearing it. When I say that, I just mean that, for me, it is not always the most flattering thing to wear. I definitely have to have a lot of guts to wear it. But I love it anyway, and I love cosplaying that particular character, so I wear it anyway. But, although I don't always agree with the costume, I still adore wearing the wig. I think if I could, I would have long pink hair just like that. That would be lots of fun.
-How long have you been cosplaying?
            Officially, I have been cosplaying since I was in 8th grade. For my birthday, which is in the summer, my mom had gotten me a ticket to Banzai, and ever since then, I have been cosplaying a ton. So, it's basically been 4 years since I started, and I continue to do it more and more, even though I am almost a senior in college.
-What is your favorite part about cosplaying?
            There are two things I enjoy greatly about cosplaying. The first one is the people I get to meet. I always enjoy how friendly everyone is, and Cosplay is a great way to meet someone new. For example, when you see someone dressed up as a character from an anime you absolutely adore, you usually run up to them and want their picture, or begin talking to them. Knowing that you have something in common with them is a great way to start a conversation and get to know them.
The second thing I love about Cosplay is the fun of becoming a completely different person. Not only in looks, but also in personality. It is fun and goofy to act like a specific character. I always end up choosing characters that are kind of sexy and flirty, such as Luka. Sometimes I find it hard to believe when I look in the mirror and see someone who looks completely different, but is still me. It just amazes me, in a good way of course.
-What Cosplay would you like to do in the future?
Oh my, there are so many to choose from. There are many cosplays I would love to do in the future, so I will name a few. I am currently working on Lady Ciel from Black Butler, which I am almost done with. I plan to wear this one to AX at the end of June.
I am planning on doing a different version of Alois Trancy, possibly his Alois in Wonderland. I love this outfit because I think it's adorable, and I absolutely love Alois as a character.
Next I want to do Miku's Alluring Secret~Black Vow dress. I absolutely adore her outfit and hair in this song.
Lastly, to name a few more, I'd love to do the Will of the Abyss from Pandora Hearts, Yoite from Nabari no Ou, and Ciel Phantomhive from Black Butler.