We recently received this amazing Show Us Your Moves submission from Monochrome Tea cosplaying as Sailor Pluto from Sailor Moon! She utilized our Persephone wig in Forest Green to obtain her look! She's got a great blog post below so read on to see pictures and her story!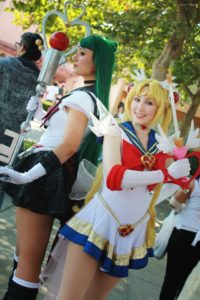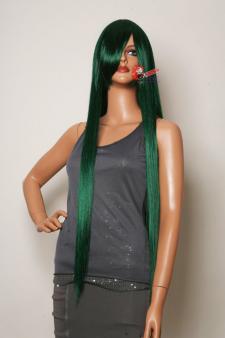 Wig Used: 40" Forest Green Persephone Wig
Character: Sailor Pluto
Costume made by: Monochrome Tea
Facebook Page: https://www.facebook.com/MonochromeTea
Series: Sailor Moon
Photographer: BlizzardTerrak Photography, and Marygail Kristen
Sailor Pluto is one of my favorite sailor scouts. She is such a beautiful and elegant character in the series, a strong warrior with the duty to protect time and maintain its order. It was a no brainer for me that I had to cosplay her. She was my first cosplay choice to do. I had cosplayed once when I was 16, but I didn't get back into it until I was about 20. My first Sailor Pluto cosplay and wig were both bought from eBay. The costume was horrid, the wig was the wrong green, but I still had fun. As I got more involved with the cosplay community, I was invited into a group of cosplayers by a dear friend. They were in need of a Princess Serenity for their Sailor Moon skit, and I happily offered to take up that request. It was from that moment that I decided I wanted to fully immerse myself into cosplay, and craft my own costumes. Some members of the group wanted to do another Sailor Moon skit for the next con, so I decided to finally make my very own Sailor Pluto uniform. It was the first time I had taken on a costume all by myself. I was sort of stubborn then, and wanted to do everything myself. I didn't want to bother my friends and ask them for help 24/7. The end result was… okay. I wasn't happy with the way the uniform turned out, but I certainly did learn a lot from that project!
That was not the end of my Sailor Pluto costume. I got to fix it up and completely revamp it for Fanime 2012. This time, I made sure to get help from my friend. My Sailor Moon group followed this tutorial < https://risingnewmoonstudios.blogspot.com/2012/03/sailor-senshi-uniform-tutorial-part-1.html > to make our sailor fukus. We all pretty much followed it exactly. The only difference being that we all wanted to change up our skirts. For my Sailor Pluto cosplay, I decided to do a sheer fabric over skirt with sparkles in it from the Casa Collection at Joanns. It really gave my costume a unique twist to the sailor fukus. It reminds me of the night sky when you look up and see stars twinkling back at you. We wore our costumes on Sunday at Fanime 2012 and performed in the masquerade. Our skit won the Judges Award for Best Performance. It was a wonderful honor to receive, since most of us had only performed at SacAnime's masquerade.
< Video Link of Skit: https://youtu.be/p7QwJjN30QQ >
< Group Photo: https://i957.photobucket.com/albums/ae51/xaoi/416655_380157648698166_1537877276_o.jpg >
For my Sailor Pluto wig, I decided to turn to EpicCosplay. I had heard so many good things about their wigs. The wefts were thick, they fit your head, they didn't tangle easily, were easy to take care of, and the shipping was speedy. I looked at their great array of greens and found two colors I liked. It was the forest green and pine green. I had originally wanted the pine green, but it did not come in the length I needed. I ended up getting the forest green. When I received my package, I instantly fell in love with the wig. It was so soft, and the color was gorgeous! Even though it wasn't the color I originally wanted, it looked perfect with my Sailor Pluto cosplay. Luckily for a wig newbie like me, I did not have to do much styling to it. No crazy spikes, or gravity defying pig tails for this young lady. I had a friend cut the bangs shorter for me, and I styled the bun in the back. I just put up the bun how I would with my own hair. I took two pieces from the sides, and brought them back into a ponytail. Once that was secure, I twisted the wig hair and then wrapped it around the pony tail to create a bun. I used bobby pins to keep it in place. My Pluto wig is super easy to detangle after the chaos of a convention day. I can take out most of them with my fingers, and if I need to I can use my wig brush. It is pretty low maintenance and I like that, because most long wigs are a pain to comb out! I will definitely buy more wigs from Epic Cosplay in the future.
<Back: https://i957.photobucket.com/albums/ae51/xaoi/558728_10150997721276504_500007655_nmarygailkristen.jpg >
I plan to use this wig in the future for a Steampunk Sailor Pluto costume! Keep an eye out for some Steampunk Sailor Scouts that will be hitting the Northern California con circuit within the next year!