Here's another submission for our Show Us Your Moves Contest.  This time it's Naomi in various outfits while she's modeling one of our wigs!  To enhance her image she used our Hera Wig in Walnut Brown.  Read on to see more info on Naomi!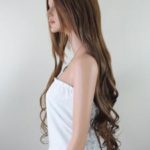 Photos Courtesy of Jay Rwoland Jr. (JDR PIX)
I am a mother of two, part time sales associate, part time model.  I got into wigs from wearing a friend's wig one night that we went to a dance club out of town.
It was so much fun, everyone thought it was my real hair.  (My hair is short, I tried to grow it out, but that didn't last long.)
I purchased the Hera- 38″ Walnut Brown Curly Wavy Extra Long Cosplay Wig.
I purchased this wig to wear at a wedding and for Youmacon.  I didn't end up wearing it to the wedding nor was I able to go to Youmacon.
I however did wear it to a photo shoot and got a lot of compliments.  I was really happy that it looked natural in all the photos.  It even photographed in B&W really well!
I like manga and anime and do cosplay sometimes, but I have not with this wig yet.
I wear it out to places in the area sometimes just for fun.  It's funny how people I have known for a long time don't always recognize me when I am wearing the wig.  I love my wig and plan on purchasing more after the holidays.  🙂