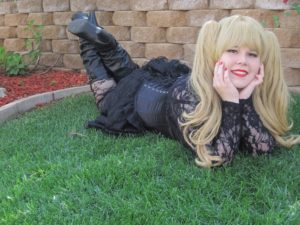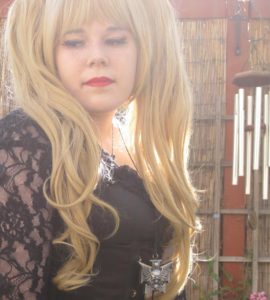 Nicolette sent us an encouraging story about her love to cosplay and how she worked to dress up as Misa Amane. We are so happy that she selected our wigs to use in her costume and that she's been able to find a way to express herself through cosplaying.
The wig that she opted to use was the Caramel Blond curly wave pony tail set. You can see it pictured below!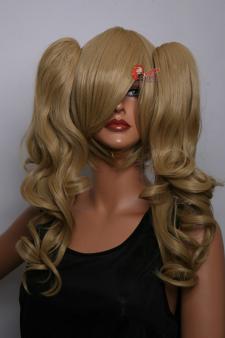 Without further ado, here's Nicolette's story!
Nicolette Harrington
Age: 19
California
When I was in middle school I was a shy and quiet girl. I didn't have many friends and I spent most of my time reading in solitude and drawing pictures of anime characters. I had long dark hair which I let hang freely with a thick black headband. This headband sported the symbol of the village hidden in the leaves, and thus my first cosplay was birthed. I tied that headband in my hair every morning, smiling in the mirror as Sakura Haruno smiled back at me, ready to ace her ninja studies. I'm not sure what it was that originally sparked my love for cosplay. I've always loved dressing up in costumes for Halloween, but that only came once a year. What if I wanted to dress up everyday?
What if I wanted to slip out of the shell of my inhibition and push aside the veil that is reality and become something amazing… Cosplay let's you leap into a fantasy world of flowing hair in every colors, and mystical powers. It let's you start over, do something new, and be something different. It let's you dream and fantasize, and then make those into reality. Cosplay is my passion, and I will continue it.The character I selected is Misa Amane from Deathnote. Misa is a beautiful and strong girl, even though she might not come off as such.
I've always admired Misa's undying love and devotion to Light Yagami. Misa stood by him and supported him to the very end. The most difficult part of the costume was actually the wig. When searching for a wig for this cosplay, I could never find a wig that was the right length or the right color to suit my tastes. I wanted to cosplay Misa's larger pigtails to add my own unique touch to the cosplay, and epiccosplay's 'Caramel Blonde Wavy Curly Ponytail and Wig Set' worked perfectly for it. [at least I think that's what the wig is called since I actually bought it from the epiccosplay booth at AX 2011] As for future cosplays, I have a lot in mind! Too many to list!
Photographer: A friend of mine and she has granted me all of the rights.