Here's an amazing submission from Nissie and Dallie, two adorable twin girls who used our wigs for their Lucky Star cosplays! Interested in looking at the wigs they used? Check out the wigs that they used here. We believe they used our Chronos wig in Fusion Vanilla Purple and Persephone wig in Fusion Vanilla Purple.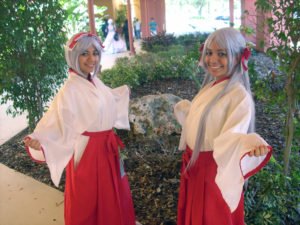 Chronos wig in fusion vanilla purple
Persephone wig in fusion vanilla purple
Hello! We are Nissie and Dallie, cosplaying twins. This is our Lucky Star cosplay of Tsukasa and Kagami, in which we used your wigs. We debuted them in May 2011 at Florida Anime Experience.
We had been cosplaying for about 8 years at the time, and while we usually picked characters from the same series, we never got the chance to cosplay twins like ourselves. That's why we decided to go with Lucky Star's Tsukasa and Kagami: they fit our image as twins, were the same gender, and were also incredibly cute. We then decided to go with their shrine maiden outfits from the Comiket/New Year's episode (episode 12) because it would be a different outfit than what most Lucky Star cosplayers would make, and we like standing out a little.
It took a while to decide on wigs, because we wanted them to be the same color. The hardest to find was a decent long wig for Kagami, because her hair is literally down to her waist and tied up in ponytails. We went with EpicCosplay because we knew the wigs would be the exact same color, and because we really liked how soft and silky the wigs felt when we saw them at an earlier convention.
We ordered the wigs first, Tsukasa's being more or less perfect and only needed a slight trim to the bangs. Kagami's took much longer…It took about 4 hours to figure out how to pull it up into ponytails without too much of the net showing, however that wasn't enough. After brushing it a few times, it became apparent that the back would mess up and expose the wig rather easily. So, we had to sit down and re-do the ponytails again, taking a few more hours, but this time it was sealed with spiking gel, making a nice little helmet in the back, allowing for the ponytails to be lightly brushed without pulling anything out of wack.
The kimono and hakama took about 2 weeks for each to make, because we took our time making them. The top kimono were made by using an actual kimono our brother bought in japan and copying how it was made. We originally intended to make both a white and red kimono to layer, but realized that it would take too much fabric (and thus, money) and so we made red lining along the neck and sleeves to give the illusion of a layered look. The hakama were made from a pattern found online. The bows were made from the same fabric as the hakama. Tsukasa's one big bow clips into the wig with hidden bobby-pins while Kagami's bows have purple ties that tie onto each ponytail and kind of blend in with the wig.
I guess the…amusing part of this costume is that we can't get into them on our own…the hakama are so huge and are made of so much fabric that it's a bit difficult to get in them on our own, so we have to help dress each other. Also, there are two attached ribbons that hold the pants up, which is hard to tie on your own while also keeping the kimono folded straight. So we are together in these costumes from beginning to end! And don't even get me started on bathroom breaks…
We love this cosplay because even if you're unfamiliar with Lucky Star, it's just an adorable costume, and who doesn't like twin mikos? Its fun to wear, and even though initially getting in it takes a bit, it's surprisingly comfortable an easy to wear. The wigs really complete the look. Just a fun cosplay, and one of our favorites.
-Nissie & Dallie
Twin Cosplayers