Nyu Nyu Cosplay sent us an Epic Show Us Your Moves Submission featuring her awesome Sailor Mercury cosplay! She utilized our Chronos wig in Ice Blue to rock her look! Check out more pictures of her, a picture of our wig from our website, and her story below!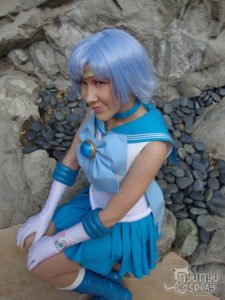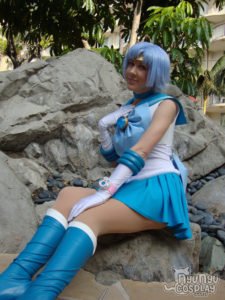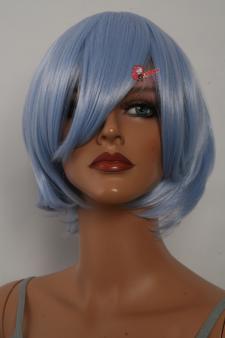 Hello! I'm NyuNyu, and have been cosplaying since 2003 – almost ten years! When I first began cosplaying, we did not have the wide variety and availability of wigs. I am so excited that I can buy wigs in so many styles, colors, and now even heat resistant wigs! EpicCosplay is my go-to place for wigs! I like that the wig fiber is soft, and the wigs are very full. They can last through multiple conventions with minimal care and photograph well- not too shiny or too dull. The variety in colors is wonderful, as well.
Character: Sailor Mercury
Source: Pretty Guardian Sailor Moon (Live Action)
I chose to cosplay Sailor Mercury because I really fell in love with in her character while watching the 2004 live action series. I was always a Sailor Jupiter fan in the past, but she's just so cute and BLUE. Sailor Moon costumes just have a timeless look to them.
This wig began as the 12″ Ice Blue Layered Short Cosplay Wig. The color is absolutely perfect for Sailor Mercury in the live action version of Sailor Moon (PGSM). This is probably the sixth or seventh wig I have bought for this character (I'm super picky!) and I really love it. After trimming them, I thinned the bangs by cutting out some fiber near the front hairline. I curled them under using curlers and a blowdryer. I made the back of the wig flippy by using the same method, and set it all with lots of hairspray. The layers in the back made it very easy.  Sailor Mercury costume and accessories are also made by
me.
Some costume notes – I created my own patterns, sewed the leotard from swimsuit spandex, made the choker, collar, and circle skirt from crepe, and the glovebands and bootcovers from a PVC vinyl. The pieces snap on and off the leotard. The bows are huge rectangles with lots of interfecing. I made the brooch with a clear ornament, glass paint, and paperclay. The gloves are from a bridal shop, the bracelet is modded official, earrings are from Catsy's, and tiara is craft foam with a resin/plastic gem.
My favorite part about cosplay is a tie between the creativity and excitement in creating the costumes, or meeting mutual fans!