We got a new submission from Steph S. cosplaying as the ever adorable Ariel from the Little Mermaid! Check out how she got started with cosplay with the story below!
Steph got the look she wanted by sewing together two of our wigs! She utilized our Persephone Wig in Apple Red and Athena Wig in Apple Red! Check out pictures of her and the wig she used below!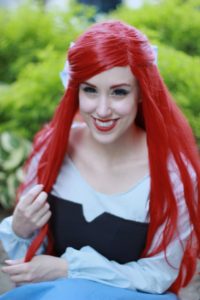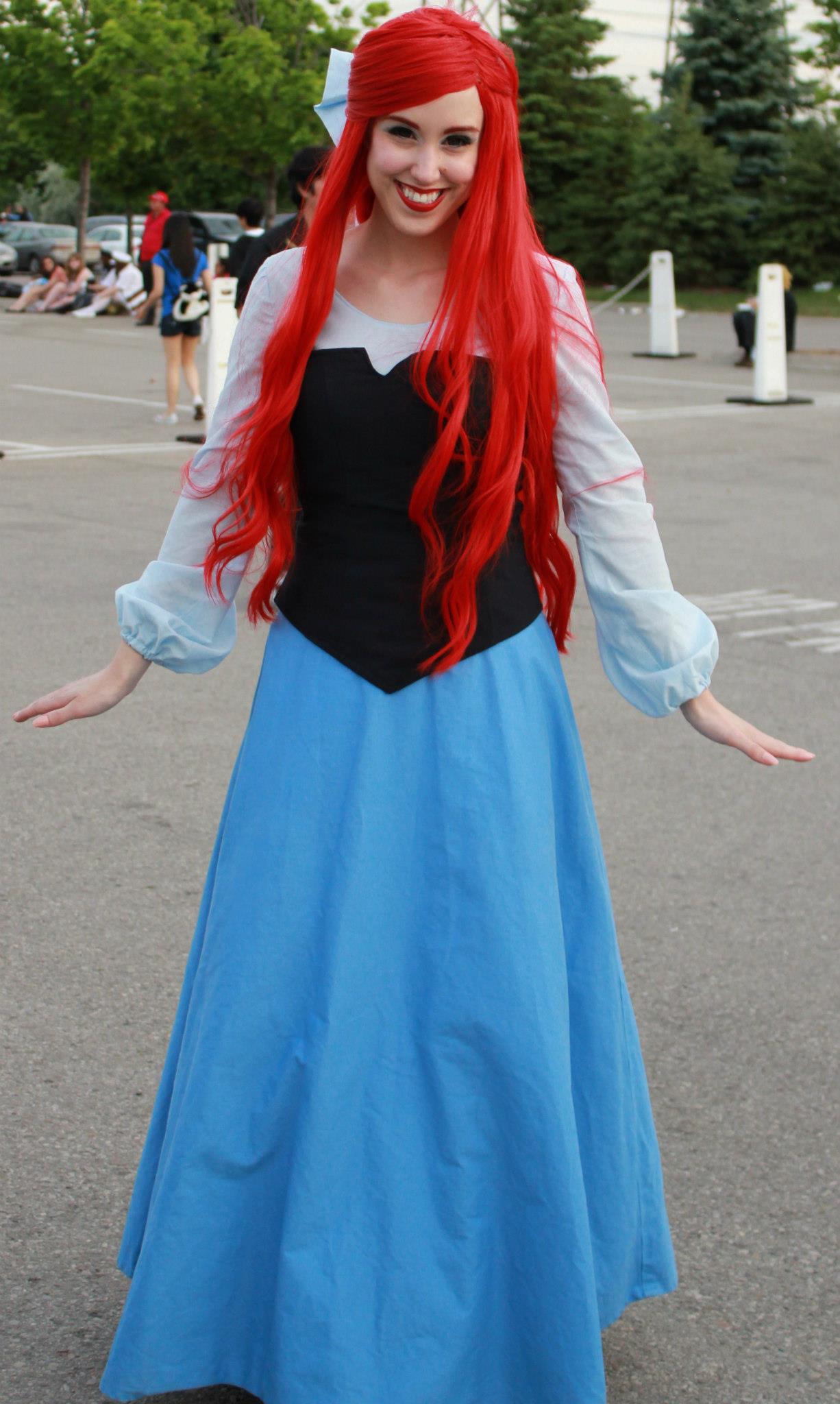 – What got you into cosplay?
One of my best friends got me into cosplay.  She attended a con with her family in 2004 and ranted and raved about how fun it was.  The following year, we discovered that the largest Canadian convention fell on the weekend of her birthday, so she got a ticket and hotel room (the closest conventions are about 4.5 hours away) from her parents as a gift and all I had to do was get my own ticket to go with her.  She mentioned that the last convention she attended had lots of people in costume and asked me if I wanted to dress up with her. Halloween was always our favorite holiday so we were pretty excited about the idea.  We taught ourselves to sew in order to save some money and we even went as far as dying our hair and picking up colour contacts!  We soon got addicted to conventions and costuming and pulled many friends and coworkers into the hobby as well!  We have a
group of 28 coming with us for one later this year!  What was originally a cheaper alternative to  buying costumes quickly became far more expensive a hobby than we could have ever imagined as we took on more challenging projects and became more detail oriented.  We soon discovered that purchasing wigs is much simpler and less expensive in
the long run than dying our hair each time.  Thanks for making such great reasonably priced wigs to help us out!
– How long have you been cosplaying?
Since 2005! Has it really been that long? lol
– Were there any particular reasons you selected this character?
The Little Mermaid has always been my favorite (and I think first?) movie.  It really has a special place in my heart, and Ariel will always be my favorite Disney Princess.  I also have a soft spot for mermaids in general.  The 'Kiss the Girl' dress is an easier dress to make (plus no clashing pink fabric with red hair!) than her ball gown and more practical to walk around in than her fin. Plus she is SO fun to be, everyone just loves her!!
– What would you consider the most difficult part of this costume?
The costume itself was relatively straightforward sewing.  I found the shoes with no trouble at all, luckily.  I did have to search aroundfor the petticoat but I eventually found one in a market when I was shopping in a bigger city.  The most difficult part was the wig.  I sewed two of your wigs (one was 40″ and the other was 36″ in Apple Red) together to make one giant FRANKENWIG!! Hahahaha I know that your wigs are already super thick, but I was determined to recreate Ariel's ginormous 80's animated hair.  Despite it being double the wefts and quite a long wig, the thing hardly tangles! It's some kind of cosplay
miracle!
Also the bangs! I still can't get them right!
– What cosplay would you like to do in the future?
I'm currently working on a Designer Ariel from the series of collector dolls that came out last year.  I was really depressed about missing out on getting one for myself so I decided to cheer myself up by making one myself… life-sized… and be it.  Hahahaha seriously
though I'm really excited for this project.
– What's your favorite part about cosplaying?
I love the challenge of taking on a big project, especially when I have to learn something new to complete it.  So far I've taught myself to sew, work with electronics, shape leather, make footwear, style/dye wigs, etc.  I'm always learning something new!  Also the friends I've made through cosplay are spectacular.  We get together regularly before conventions and help each other figure things out when we are out of our area of expertise.  My little brother has recently become our props guy, since woodworking is not on my list of things I've mastered (ha!), and I'm really pleased to share my love of this hobby with him.  He's just attended his first con this year and plans to start taking commissions on props!
PS- Thanks to Kitty Schofield for the great photos <3