We've got another lovely submission from Zetragild as she features her Kuja cosplay! She utilized our Athena wig in Ice Purple (discontinued, may consider Persephone), which is pictured below. Check out her awesome story below as well!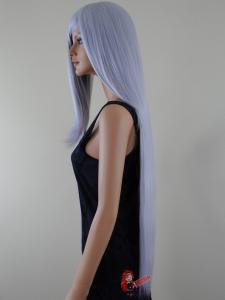 Hello again, it's Zetragild. <3
Aged 21 years, lives in Canada and Cosplaying Kuja from Final Fantasy IX this time.
The wig I used was a 40 inch Ice purple straight long wig. Which works perfectly, since he has silverish hair with a purple tinge. I absolutely recommend this colour for characters like him, or Pegasus from Yu-gi-oh. Any character the looks in between actual silver and white.
More photos can be found in this gallery here https://www.facebook.com/media/set/?set=a.291400427559641.77229.290077657691918&type=1 (Vicious-cosplay makes an appearance as her Tactics Summoner Alma in the gallery. She isn't wearing one of your wigs here, but I believe she recently ordered one from you guys to replace the itchy halloween poop she did have! Lol)
Kuja was a level up for me in Cosplay. He looks simple due to his lack of pants but the top armour has a crazy amount of gravity defying layers that took a lot of patience to finish. The wig was fun to style, but it was also interesting to figure out how to incorporate the feathers without it looking like I just stuck one randomly there.
I took a good 2-3 inches off the back and front and layered it. Then after I glued my feathers to the top edge of a bobby pin I took the left over clippings and glued them over top to hide the edges of everything and make it look like the feathers were literally growing out of the wig. It works great and I'm super proud of how the wig came out. It's one of my favourites to wear!
The armour is all held up by an incredibly thick craft backing. I'm not even sure what it really is because all the label said was "craft backing". It's got a similar texture and thickness to felt but it's so stiff it holds shape and is just marvelous. Every bit of armour is fabric sewn over that. To get the dome like shoulders I ended up cutting strips and different shapes of the craft backing to make a sphere over the shoulders of my dress form and then glued fabric over them.
The under bit of the chest piece is painted craft foam, and the raised bits are hotglue that was also painted. Velcro holds everything together so that I can get out of it properly. It actually comes off in two pieces.
The entirely thing is actually really really comfortable. I'm not self conscious in it at all, in fact I enjoy walking with a bit of a sway just so I can feel the flowing of the butt cape against my legs. The shoulder armour acts as a nice guard in busy convention halls and dealers rooms, as I seem to bounce right off anyone who bumps into me without feeling much at all.
This is one of my favourite cosplays! But I do look forward to sending you guys more wig stories in the future! :3