There are various types of wig fibers on the market with different heat tolerances. Epic Cosplay Wigs are heat resistant up to 410F, but not all wigs are. Here are some simple tips on how to tell wig fiber types apart. 
Kanekalon and Futura fibers side by side: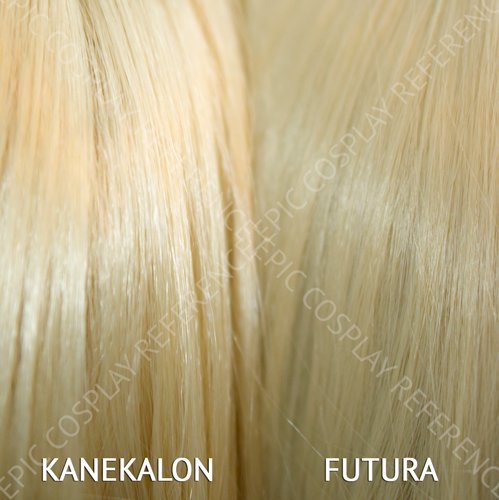 Kanekalon and Toyokalon wigs have a high sheen and low heat tolerance.
Futura or other heat resistant fibers are lower sheen and have higher heat tolerances. Our brand of Japanese heat resistant fibers are able to resist heat up to 410F, which is on the upper end of heat resistance for wigs.
Note: all synthetic wigs will 'shine' with direct flash photography because they are plastic fibers. The amount differs by fiber type.
Step 1: To distinguish fiber types, look for how much shine the fibers give off. The more shine, the more likely the wig is not heat resistant.
Step 2: The texture of heat resistant wigs is typically smooth and very soft. If the fibers feel a bit rough to the touch, it may not be heat resistant.
Step 3: Take a section from the back of the wig to test. Use a blow dryer on medium or high heat. If the fibers are heat resistant, they will relax with heat and feel smooth. If they are not heat resistant, they will start to frizz. Remove the heat immediately if this happens.
If your wig passes these tests, it's time to move on to heat tolerance. Using a low heat setting on your styling tool, test the same section of  heat resistant wig fiber. You can apply more heat as needed, stopping when any signs of singe or frizz begin. This will dictate the range you can safely style your wig with.
Please note that not all heat styling tools regulate heat evenly. Use tools that have reliable heat settings and check your product's manual for temperature information.
Never use open flame to test your wig fibers. Wig fibers are plastic and release toxins when burnt with flame.
While textiles can be tested with fire, wig fibers are not safe to burn even in small amounts.