Here's one of entries for our Valentine's Day Contest! Cece is cosplaying as Pinkie Pie from My Little Pony: Friendship is Magic. While she did not use one of our wigs this time around we recommend our  Hestia Wig in Raspberry Pink if you want a wig very similar to what Cece is wearing in her entry! Look on to see some more information about this cosplay!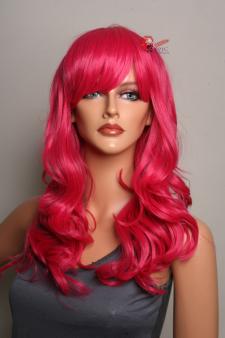 -What inspired you to do these cosplay?
I was really getting into MLP and Pinkie Pie was such a fun loving character! She seemed perfect to fit something like valentine's day and I have so much fun being her.
-What got you into cosplay?
I got into cosplay at my first convention 2 years ago. I was inspired by how much people worked on costumes so I started making costumes and going to more and more conventions. I fell in love with cosplay and the idea that I could be a hero or a villain or anything I wanted to be even for just one day.
-Why do you love cosplay?
Cosplay is not only an art, but a wonderful past time. You meet so many wonderful people through the world of cosplay and everyone is completely accepting of one another. Making costumes is always worth the time and effort once you go to the con or have a chance to display your costume. I love being someone stronger, braver, funnier, and all around different from myself. Cosplay is a world and art on it's own that should be accepted.