Here's one of entries for our Valentine's Day Contest!  GriffinHuntress is cosplaying as Rinoa Hartilly from Final Fantasy VIII. While she did not use one of our wigs we have a perfect style you can use for this cosplay! We recommend that you check out our Dionysus Wig in Black (discontiuned, may consider Nyx in black) in case you are looking to cosplay as Rinoa in the future! Check out her story below!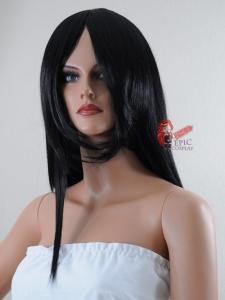 What inspired you to do this cosplay?
At first, I just wanted to knit a sleeveless sweater, then I decided to do Rinoa's specifically…. then it turned into the whole outfit. XD The duster and arm warmers are hand knit from a a pattern by MedeiaDesigns on DeviantArt and they took several months, working on them on and off. I really like Rinoa and her outfit, and it's really fun to wear since (I think) we look a lot alike.
What got you into cosplay?
I've really liked making and wearing costumes for a long time. After I discovered cosplay, it was a natural thing to try!
Why do you love cosplay?
I love costumes! 🙂 Mostly, it's really satisfying and amazing to see something that was in a video game or anime actually existing in front of you. I love the challenge of making things, especially whole characters, exist in reality.