Here's one of the entries for our Valentine's Day Couples Contest!  Adriana Akiyama and Masao Ikawa are cosplaying as Eureka and Renton Thurston from Eureka Seven.  Adriana used our Hestia in Jade Green  (discontinued) for her Eureka cosplay while Masao used our Chronos  in Dark Brown wig for Renton! Read on to learn more about these cosplayers!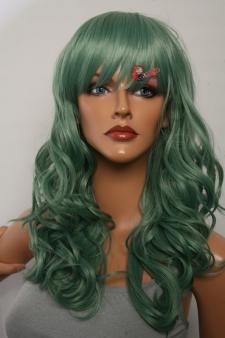 -What inspired you to do these cosplays?:
We've always been huge fans of Eureka Seven, since it's such an amazing anime. Even before we became engaged and started dating, we've always had the idea to cosplay as Eureka and Renton. One day, we actually decided we should just begin making the cosplays, so when it actually came a reality, it was really neat. We've always connected to some degree with the characters, personally, and they mean a lot to us. The love between Eureka and Renton is something so pure, wholesome, and true, so we've always tried to convey that with our own relationship.
-What got you into cosplay?:
Adriana: My parents are really big sci-fi and anime nerds, so they always have been big on dressing up, and I had always loved what they did. I guess you can say it was more so my mother who is the huge anime nerd which got me into this. She had noticed that some of my friends did it, as well, and got us all to start going to cons in cosplay and competing. Since then, it's been a great experience, and has actually even helped me with my college portfolios.
Masao: Mostly wanting to make armored suits and weapons and stuff. Cool props are the things I like the most and tend to get me to like a character more.
-Why do you love cosplay?:
Adriana: I love cosplay because it's an art. It's something wonderful that anyone can get into, and no matter what, you're always going to have fun at the end of the day. Bringing something from a screen into something tangible requires so much skill and creativity, and getting to bring a character to life as you not only present yourself with their appearance, but mannerisms is fun because you get to stray away from whatever is happening in real life, and enter a whole new world as someone else–someone you love. You get to show off your skills when you complete a cosplay from scratch, and experience the appreciation of anime/manga/video games/Japanese culture with others that love it as much as you do. Really, the best part is getting to meet all the amazing people in this hobby. I can't tell you how many doors and opportunities the world of cosplaying has opened for me. It's truly a magical experience.
Masao: Because giving life to characters is fun since it makes you scrutinize every minor detail of their clothing and its functionality. The capabilities of their weaponry if they have any, their movements and quirks and the facets of their personality that actually make them interesting.
Photograph is credited to FilmShooter © 2012