Here's one of the entries for our Valentine's Day Couples Contest! Alyson and Alex are cosplaying as Rapunzel and Flynn from Disney's Tangled! While neither of these cosplayers used our wigs for these cosplays we do have a few suggestions for you to use in case you are looking to cosplay as either of these characters in the future! For a Rapunzel cosplay we recommend styling our Asteria Wig in Caramel Blonde. For a Flynn cosplay we recommend our Hermes Wig in Dark Brown. Read on to learn more about these cosplays!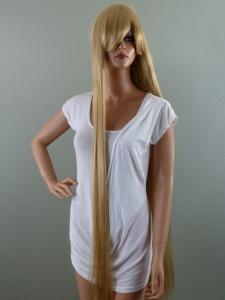 What inspired you to do these cosplays?
The movie and making kids days for their birthday
What got you into cosplay?
Anime Cons
Why do you love cosplay?
Being able to be a character you would only dream of. Meeting new people and making friends. The challenge of a new project.