Here's one of entries for our Valentine's Day Couples Contest!  Amanda (GoddessofFlash) and Matt (Gundammrw) are cosplaying as Caska and Gutts from Berserk!  While neither of these cosplayers used our wig (and Gutts doesn't need it, from the look of this cosplay), we recommend our Chronos Wig in Black for a Caska cosplay! Look on to see some more about their cosplays!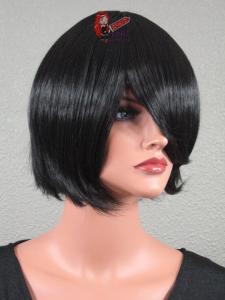 -What inspired you to do these cosplays?
Berserk is our favorite series and it doesn't get a lot of love but we really Love these two characters and decided it would be fun to cosplay them together. Plus, we love armor 😀
-What got you into cosplay?
We both started just going to cons out of costume and decided we wanted to try it. He lived in Arkansas while I was here in California. We actually met at AX through cosplay, he was wearing a bright yellow spikey wig and I a huge purple pony tail. After 5 years of dating, we're now engaged and still love doing couple cosplay.
-Why do you love cosplay?
There's nothing like the feeling of pride when you finish a costume and get to embody the character. Cosplay brought me together with my soul mate and I don't think I could be more grateful for it.