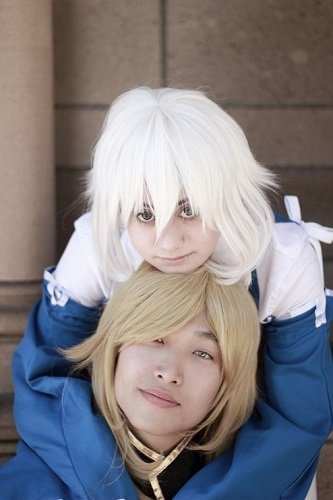 Here's another cool entry for our Valentine's Day Couples Contest!  We have AndiAndi-Chan and Unicorn-Sama as Echo and Vincent Nightray from the series Pandora Hearts! While neither of these cosplayers used our wigs we have some great recommendations for styles to use in case you are looking to cosplay as either of these characters in the future! For an Echo cosplay we recommend styling our Aura Wig in Silvery Grey. For a Vincent Nightray cosplay we recommend using our Dionysus Wig in Caramel Blonde (discontinued). Take a look at their cosplays and learn more about their cosplay habits!
– What inspired you to do these cosplays?
We're a fan of the series, and although our relationship aren't anything like Vincent and Echo's in real life it was still fun to represent these characters.
– What got you into cosplay?
I've (Andi) been cosplaying since 2008 and got into it because a friend took me to an anime convention.  David has cosplayed a little before we started dating but has cosplayed a lot more thanks to my influence! (I'm a horrible influence!)
– Why do you love cosplay?
It's something we can do together.  It's financially stressful and time-consuming, but it's also addicting. Taking a break from cosplay results in boredom.