Here's one of the entries for our Valentine's Day Couples Contest! Ashley and Andrea are cosplaying as Ranma Saotome and Akane Tendo from Ranma 1/2! While neither of these cosplayers used our wigs we have some great styles to recommend in case you are looking to cosplay as either of these characters in the future! For a Ramna cosplay we recommend styling our Dionysus Wig in Black (discontinued, may consider Nyx in Black). For an Akane cosplay we recommend our Chronos Wig in Blue Black Fusion. Read on to learn more about their cosplays!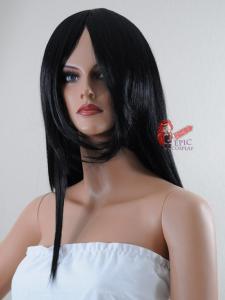 What inspired you to do these cosplays?
We both love Ranma 1/2 and love the spunk and humor of these two characters. Ranma is such a silly character; I love that I get to make funny faces and do silly poses. Yet he is also a martial artist and I have experience in Tae Kwon Do so it is fun to apply it to cosplay as well.
What got you into cosplay?
I originally got into cosplay after seeing others cosplay at Comic Con. My sister and I decided it would be fun to do as well, so we begged our mother to help us make Naruto costumes. We went to a cosplay picnic and for the first time met people who really liked anime as much as we did and who were so friendly and welcoming to us newbies.
Why do you love cosplay?
I get to meet many new friends through our mutual admiration of a series and each other's craftmanship! The friends I've made through cosplay are some of my very best and I love that I get to work together with them to make pieces of art. Additionally, cosplay has helped me becomes less shy and have better self-esteem