Here's one of entries for our Valentine's Day Couples Contest!  befu and zaFade are cosplaying as Aisha and Andrew Waltfeld from Gundam Seed. While befu's base wig is not one of ours she used our 30″ canary wefts and sewed them into her wig. We recommend that you use our Nyx Wig in Blue Black Fusion as a base if you are looking to cosplay as Aisha!  and our Hermes wig in Dark Brown!  Look on to see some more about their cosplays!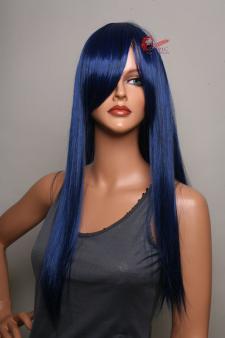 -What inspired you to do these cosplays?:
I was asked to do Aisha to his Waltfeld long before we started dating. When I finally got to watch Gundam Seed with him (about a week before we started dating) I saw the episode with Aisha and ending up punching him since he forgot to tell me about the cut outs in the back of the bodysuit. Which don't show up on any images on google. Thankfully I was able to find a figure of her that had to travel to 3 continents to get to me. It was quite the trial to make both of these costumes (as I had made nothing even remotely like them before) and all things considered, they turned out quite well. Aisha has grown on me and I can't wait to do a proper photoshoot with the two of us, as we only have a few snapshots from people that attended the cons we wore them to.
-What got you into cosplay?:
My friends. They dragged me along to a con in 2003 where I cosplayed Nanami from Revolutionary Girl Utena and I haven't looked back since.
-Why do you love cosplay?:
The creative challenge of it. Taking something that's 2D, making it for the real world and have it be somewhat practical. Each costume is something I've never done before and is a brand new learning experience. It also strengthens my sewing skills!