Crimson and Angelus entered our Valentine's Day Couples Contest as a Male and Female Demon Hunter from the Diablo III video game.  While neither of these cosplayers used our wigs we have some recommendations for styles in case you are interested! For a male Demon Hunter we recommend a
Chronos wig in Black
. For a female Demon Hunter we recommend our
Dionysus wig in Black
.  Check out their story and images below.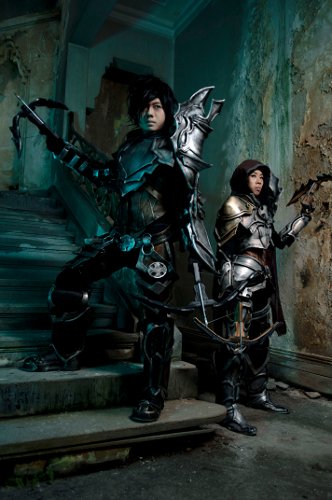 Name of both cosplayers: Crimson & Angelus
Series that you are cosplaying from: Diablo III
Characters you are cosplaying as: Male & Female Demon Hunter
Did you use an EpicCosplay wig? If so, what style? Sadly, no. 🙁
What inspired you to do these cosplays?As avid gamers, cosplayers and costume makers, it was natural for us to create something from one of our favorite series of all time – Diablo III. We were incredibly impressed by the Demon Hunter's design, edgy feel and slick moves when we caught Blizzard's Demon Hunter trailer in late 2011, and started crafting our suits as soon as we managed to get our hands on some suitable art references.
We're really glad the costumes turned out well, and have our photographer friend Vaxzone to thank for taking some really atmospheric images of these costumes.What got you into cosplay?
We've always loved anime, comic books, games and manga, and cosplay's an expression of our love for our favorite games and fandom. We first discovered cosplay about a decade ago, and since then, we've grown to embrace the process of building costumes, mastering new techniques, and working with unusual materials to create wearable 'art', which we feature on our blog 
'Neo Tokyo Project
'.Why do you love cosplay?
Cosplay's brought us closer, and helped us to develop skills and talents that complement each other.  It's also a hobby that's helped us develop greater confidence, presence and expanded our repertoire of practical and social skills. We enjoy the process of creating new costumes, participating in competitions and in performances.
Cosplay's provided us with numerous opportunties to share our success story with other cosplayers each time we take to the stage, and it's proof positive that the hobby's an amazing and empowering one.